Melody
January 11, 2010
He knew he shouldn't have yelled at her that way.
Melody had made a scene in public, embarrassing him and forcing him to yell back. He knew that the source of Melody's anger was probably not the disagreement on which route to take on their daily walk. Melody was probably annoyed by his lack of effort in spending time with her. Even at night, when he got home from work, he would make dinner for them, but they would eat it on the couch, watching TV, with no attempt at communication.
Now, while filling out product reports and filing patent documents, he couldn't help but be filled with a longing to get back home to Melody…to hug her…to stroke her long hair and to cuddle with her in front of the fireplace. During an especially long conference call, he stole a glance at the picture of her in his wallet.


As soon as the clock struck five, he was packed up and waiting for the elevator. On the ride home, he tried to formulate his apology. He couldn't really say "I'm sorry." That didn't work with Melody. It would have to be through his actions and through his body language.
Walking up the driveway, he could hear Melody breathing in anticipation. He knew she was right near the door like she always was. Footsteps were clearly audible as he turned the key in the door.
Melody jumped into his arms as lovingly as ever. He stroked her furry back and tickled her prickly paws. She woofed in approval. All was forgiven and they couldn't have been happier.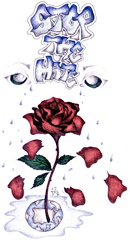 © Diana G.,Phoenix, AZ