Seven Years
January 3, 2010
The hurricane is over, the earthquake is right around the corner, but my world already trembles. I am terribly delusional…it's insanity, total insanity, and I know it. But I can't stop it; no, no...it would be ridiculous to try.

After all, I've been trying for the past seven years.

This is the story of my knight. His obituary. Yet, I know I am crazy, because he is still alive. His arms remain around me, his tears remain wet on my shoulder, his left hand remains shaking in mine…I remain ensnared in our last seconds together, tightly wound in a moment never meant to last, frozen in mind, body, and soul.
I will never hug nor be hugged again, I will never love nor be loved again, and I will never, ever smile nor laugh again. Nothing replaces my knight and all his magnificence; no more attempts, please, no more. Nobody can be a knight anymore.

Nobody can be my knight anymore.

He began as a boy who simply happened to walk into my life. He turned into a dream, a courageous hero, a glorious star, a knight in shining armor. My knight. My knight loved me more than he loved himself; yet he was confident, composed, and clear in mind at all times. His strong hand pulled me through life, gave me direction, and defended my delicate soul; his impressive eyes were only for me to behold; he reserved himself only for me. Straightforward in attack and defense, he knew the rules of life and was professional. He listened seven times more than he talked; he spoke in powerful, succinct sentences and remained more patient than time itself. He was dreadfully shy, a quiet brilliance, a regal mastermind of existence's infinite complexities. Sometimes it would seem as if were lost in his own world separate from the rest of humanity, maintaining polish and significance as he moved little more than the blink of his eye, pondering what thoughts no human could attain. "Obedience, justice, respect, and loyalty are innate human principles," He said. "They need not be taught – only expressed." And he never failed to live by his philosophies of chivalry and honor.

He left this world seven years ago. Nobody knew, nobody could have known…the hands of my mind piece the memories of our last moments together and ceaselessly index them for frequent reference. His tremulous words, the flickering lights in his eyes, his boundless stream of tears. His arms slide away from me, his eyes fall down to the ground, and he tells me that he'll miss me and he'll call me after he gets on the plane.

The call never came.

And it never will – I've waited for seven years.

My spirit is permanently burned, permanently trapped in the constricting tar of remembrance. The pain is almost healed, but the gashes in my heart remain and will remain forever. The scars of our love, the wounds of reality, the damage has all been done. Everyone will try to heal me, everyone will try to cure me, and everyone will try to love me. I will try to forget, I will try to move on, and I will try to accept the past.

But I will never be the same.

These memories, this agony, this obsession, this insanity…it'll occupy me ceaselessly, relentlessly hacking at my mind, possessing me to a limitless degree. I won't be able to stop it; no, no…it's simply impossible…why try?

After all, I've been trying for the past seven years.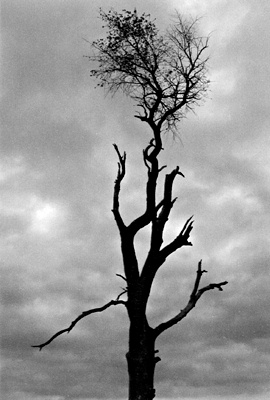 © Cassie H., Carmi, IL