Golden Girl
December 31, 2009
He never could keep his boundaries and he knew this made her uncomfortable but he still stayed close. She would give him a definite look and grind her teeth and he would smile uncomfortably and press himself close enough that he could feel the bright warmth of her flesh.

They hung out in her garage and he laughed bright pearls and she flashed golden eyes at him and drank from a dirty dishwater bottle of alcohol. He took it from her hands and it was still warm and wet from her inside-oyster lips, secretwet and gleaming. She reached for it with a soft mewling sound and he drank from it deliberately, drank from it while looking sideways at her as if to say "look at me i am here and i like the things you do" but that never achieved more than perhaps a punch on the arm.

She had a boyfriend and to his disappointment this boyfriend was not the macho abusive man who she would eventually leave, seeking better and seeking higher, but he was actually a rather nice man with glasses and a bit of a nervous stutter. He would still think badly of him, think worse, think of his as a pedophile or a necrophile or perhaps he liked to do things to animals, but he only thought these things when drunk and he knew he did not mean it because he could not look into golden girl's boyfriend's wet dim eyes and think them without looking away.

He thought of her as 'golden girl' with a smile as she had goldenbrown eyes. He had a friend who he hadn't seen in quite a long time who would call people things such as that, would call people by items of clothing or facial features, never by name or personality. He thought that this friend was perhaps a bit crazy and never very fun to hang out with because he seemed like there was something, a little something, wrong with him.

They hung out in her garage and he would play her little songs on his guitar that was missing one string and she would laugh and clap and glitter for him, like some sort of small secret sun, and he would glow just from the contact of her. She would ruin the moment by mentioning her boyfriend and he did not think that she did it on purpose, this golden girl, just that she truly loved him and probably thought about him quite a lot, as girlfriends and boyfriends do.

He, himself, had never done more than awkward shy kissing behind buildings with cute girls during his free period in highschool, and he thought with some uncomfortably that his golden girl and her boyfriend had probably done much more than that. But he could handle that, perhaps, if she just gave him a chance.

They hung out in his garage and she told him that Josh was in the hospital, that Josh had tried to kill himself (commit suicide were her words but he thought it seemed very inconsequential almost, 'suicide' was a thick-clumsy word and 'kill' was short-sharp) and she was rubbing her golden eyes with her fists, and he realized sharply that she had been crying. He felt guilty and sad but more than that he felt jealous, that this crazy man had tried to kill himself not for attention just to die and he still got more attention than Patrick did, than Patrick wanted.

He tried to place an arm around her to comfort her and she pulled away clumsily, her golden eyes glittering peppermint and she looked at him mutely before swallowing back probably-tears and shaking her head. "stop" she said and he stopped, dropping his arm. He stared at her and she said "stop we can't do this, stop rick please" and it wasn't worth it to feign indifference or to pretend he didn't know what she was talking about, pretend all of his wanting glances were nothing, were just the wind, less than the wind, just the shifting of molecules maybe.

He stepped away and said stinging words that meant to hurt, told her to go date josh if it meant so much and she had never liked him anyway, had she, and she looked at him almost surprised and tears trickled down her cheeks, tears laced with mascara. She was holding a scrap of paper in her trembling fingers and he realized that they were the lyrics of a song he had written for her once, repetitive lyrics that said something about golden girls, about golden girls lighting up the sky, but by then they were just Josh and Laura and Patrick and not these silly shapes and stupid metaphors.

She dropped the sheet of paper and she took a step back and then leaned over and opened up the door to the garage and pointed out into the street and told him to go.

He picked of the paper and went and tried not to look back, he really tried, but he ended up stealing a glance and he felt her turning into a pillar of salt behind him and dissolving into the sky.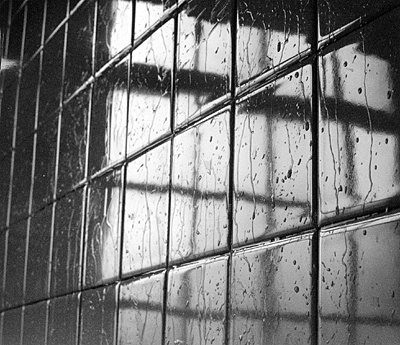 © Jared S., Pompton Plains, NJ