A girl talked about but not known
December 22, 2009
We see it happening everyday: Our peers getting made fun of for more reasons than one. Maybe they're of a different ethnicity, not everybody else's definition of normal, or too shy to make a friend. No matter the reason, it is an unnecessary occurrence. Just exactly how would you feel if you were ridiculed every day?
Chances are the person being made fun of is not the kind of person you think they are. Marissa Hansen, 16, a sophomore at Waupun High school, is one of these ridiculed kids. On the outside she may come across weird or different. Her dark skin and glasses make her look unusual to others.
"People look at me in the hallway and say I'm dressed as a nerd," says Marissa. "I've never even talked to most of them."
Marissa isn't a typical high school student, but that isn't a reason to make fun of her. She was adopted from Romania when she was three and has lived a life far from normal.
Growing up in a life of being hit by her adoptive mother and nobody to look up to isn't a normal childhood. She has always felt different, but her peers make her feel even more left out and unwanted.

"They look at me and tell me I look like a dork," says Marissa.
Before she went to school in Waupun, she went to school at Oconomowoc High School. She went through her freshman year there and said nobody noticed her or reached out and talked to her. In April, someone began talking to her.
"It made me feel so special; someone was actually talking to me."
A year passed and she grew closer and closer with her new friend, Shannon. Just as she thought she had made a friend for life, Shannon began making bad choices.
"She was making bad choices, I'll just say that."
Denisa lost her only friend because she didn't want to take the risks her friend Shannon was taking. She was left with nobody. Again.
A lifelong friend of her parents became an influence on her and encouraged her to go to church. She met people at the church and connected with them. Denisa had people she could talk to, but they weren't necessarily strong friendships. She only saw them once a week so it was difficult to get close.
About a year later, her parents informed her about her dad's job change. They were going to move to Waupun. Meanwhile, she made friendships with what were once acquaintances through church.
"I had finally felt included with the people from church."
Marissa was more than upset about the move and is still upset with her parents about it.
"I hate it there. I want to be back in Hartland," says Marissa. "At least some people talk to me there."
To this day she still wishes she was back in Oconomowoc. However, things in Waupun are getting better as the school year goes on.
"I made a friend in Waupun." She says. "I guess one is better than none."
She tries to visit Oconomowoc once a month, but what she really wants is to call it her home.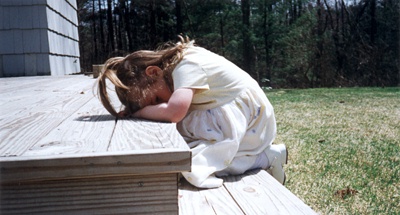 © Katherine B., Hingham, MA