the most beautiful smile
December 20, 2009
She smiled at me and said "hi." in a cheerful voice. she seemed fine. she looked beautiful. she was normal. nothing was wrong, nothing was great. everything was normal. I was normal too. I would have never expected what happened to happen. Nothing will ever be he same.
I saw her walking towards the bridge in the park. it was a rare sunny day in london, so i decided to go for a walk. i saw her smile and say "hi." to me. she had pale white skin, almost diamond like in the sun. her hair was a beautiful red, almost like fine wine in the warm summer breeze. her red hair danced on the swell of her back. she woar a green, long-sleeved shirt. the shirt was form fitting and backless. you could see every muscle on her body, except for her thighs which were gently teasing me under the flowing brown shirt she had on.
i kept walking after waving to her, afraid to speak. i did, before i hit the curve in the sidewalk, turn to watch her walk away from me. that's when i saw her step up on the side of te bridge. i watched, fearfully, as the ost beautiful smile fell off the mostbeautiful face. without a chance to think i ran toward her. i saw her body falling towards the water in slow motion. at the last minute i touched her hand, grabbing it for dear life. i would never let that hand go.
"Jake, what were you dreaming about?" she said in her sing song voice.
"you." i said to my wife, then the most beautiful smile in the world erupted on the most beautiful face.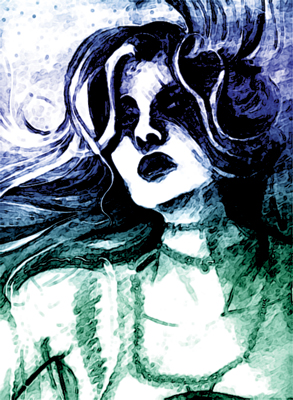 © Sindi J., Westminster, MD