Mystic Breeze prolog and Ch1
December 6, 2009
Just the Beginning

As I opened the large screen door, the smell hit me. The soft salty sea smell I was ever so familiar, with had been there yet again, filling my lungs and my mind with its powerful aroma. I looked to my left and there he was; my magical mystery. He was gorgeous as he rode by, throwing the note at me when he could...

Ch.1 my emptiness

This would be the day I always remember. Helping my father with the plans for my, deceased, mother's funeral. It was not as we expected. She died all suddenly like and it was powerful. My dad has not been the same since that day, April 12th, her 40th birthday. A year earlier she had been diagnosed with CNS (central nervous system) lymphoma. She was given half a year because it was so bad but she lasted a few extra months.
I was grateful for this, but I knew that it wouldn't last. With her passing I felt like something was ripped from me; all of my stability maybe. I have become very distant from everyone, even with my father. I have changed so much since that day. I do still go to school though. I am currently in my second semester of being a junior and I will soon be moving to Myrtle Beach, South Carolina. A beach front house that is pretty much on the ocean itself. But that's only a few days away. It's a two day drive from here, St. Genevieve, Missouri. I'm not looking forward to it at all. Especially since I have to leave before my birthday. And I haven't even talked to my friends much.
Just then my cell rung, it was my best friend since third grade when we were both caught in the chocolate fountain at my great aunts wedding. Ah those were the days; such innocence. I answered "Hi Issby."
"Hey Zan," she replied, "I was wondering if you wanted to go out tonight, like to a goodbye/birthday party at Tanner's place? You haven't hung out with any of us in over a month hone. We are beginning to get worried." This was so typical for Issby. But I loved her as a sister. And Tanner, my boyfriend for almost seven years, since the sixth grade when we told each other we liked each other, has been trying to get me come over for a few weeks now. I guess this was the perfect opportunity. She was still on the line.
"Yeah I would. It has been awhile since I have seen you guys last. And I miss Tanner and You and, wait who all is gunna be at his house?"
"Tanner, me, Stephan, Stephan, well you know the whole shebang!!"
"Cool. Umm can you swing by and pick me up because my dad needs the car later. And your gunna need to help me with what to wear."
"Sure, I'll be over there in like 10 minutes."
"K. C'ya!" And with that I flipped my phone shut. I went down stairs, where I found my dad. He was hunched over the work desk. The papers he had been working on earlier still there in front of him were wet with tears. I went over to him and hugged him. And I felt almost too weak to hold back my on tears. As I said "Dad I am going to go to a party tonight if that's okay with you?" It was meant to be a question but came out more as pleading for help. When he looked at me I could really tell he had been crying, but I know he'll be okay.
"Yeah you can go. I am just going to be here for a little bit longer then I have to go run some errands. I know it's late but I work better late. You know me, the Mr. Nocturnal! Ha-ha."
"Thanks. Well Issby will be coming by here in a few. So I am going to go out front to wait for her then I am probably going to leave. Love ya!" that is where I left him, at the desk with all of the tear dampened funeral plans in front of him.
When Issby got here, I was where I said I would be, on my front porch. It was warm out and there was a full moon tonight. It had a strange luminescent feel to it though. Like there was someone strangely looking at me. When I turned up to look at the roof where I felt the presence I saw two glowing eyes just barely visible looking right at me. It had shagged hair and I could tell it was a guy or at least a male. I could tell he was built, even from a distance, he was huge. He resembled Tanner. But when I looked again he was gone.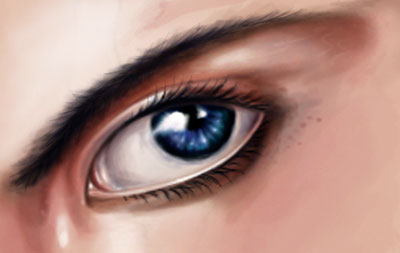 © Raul R., Monte Vista, CO