Heartbreak
October 29, 2009
I wrapped my quilt around my finger over and over again as I lay on my back staring at the ceiling anticipating his reply. What would he say? I have loved him for so long, waiting for him to come to me and sweep me off my feet. However that day never really seemed to come, he made it very clear that we were just friends. I couldn't accept it though, deep down I kept on believing, and now I dug myself a hole almost impossible to get out of. It seemed he had moved on though, but I wouldn't believe it until he told me himself.

I turned my head from the ceiling to my side table where I kept a picture of us when we were in Middle School. With my other hand I reached over and picked up the frame as I turned around on my stomach to examine it closely. As I stared at our frozen smiles and innocent faces I felt a vibration from the device sitting in my hand. The light from the phone illuminated the room and all I could to was stare at the screen saying 1 New Message. my breathes now came out faster and shorter, my finger moved on its accord to press the button that would either shatter my heart into a million pieces or patch it up forever. As my index finger pressed the button I closed my eyes and took a deep breath, and opening them to read:

"K fine u caught me. There is this girl and well I like her but I don't know if she really likes me in the same way. I mean its not like she is the only girl alive or something there are other girls. I just don't know what to do."

I sucked in a breath and held it, I didn't know what to think. Is he letting in hints that he wants me to say that I really do love him? Or does he want reassurance? I just need to tell him, after all it will be better than watching him fall in love with another girl and ending up married. I shuddered at that thought, I wouldn't be able to bear that. However I would rather be able to see him become happy at any cost than not see him at all. As I thought my fingers moved on their own accord again going from Options to Reply and typed out:

"You're a great guy any girl would be lucky to have you, i would just tell her how you feel"

My index finger once again hovering over the send button as I stared at the message. Hopefully he will catch my little hint there and not go for it, thats probably the best I could do now in my state. Then I sent the message, and once again sat in the unbearable silence as I waited. Within minutes my phone vibrated once again alerting me of another message, and I went to check my 1 New Message:

"You know what I am just going to do it. Might as well take a chance right? Why is it that I always feel so confident after talking with you? Well thanks for the confidence :D"

I wasn't breathing, I couldn't think, my heart was tearing, ripping, and shattering into tiny pieces. The phone and photo frame slipped out of my hands to cover my mouth as I fought to hold back sobs as the violently racked my body. Moonlight streamed into my room as the full moon rose out from the clouds to brighten the world at my darkest hour. A few days ago I would've admired it but today as its light peeked through my blinds I loathed it more and more. I furiously pulled jerked the blinds close so my room fell into darkness the only light coming from the phone laying on my pillow. I roughly dried my eyes and reached for the box of Kleenex next to my bed, as my arm reached the box and grasped it the frame of us caught my eyes and I dropped the box and grabbed the frame staring at it. As I kept on staring my frozen smile and eyes mocked me, and I just got angrier and angrier. I vigorously threw the frame and it shattered into tiny pieces landing all over my bed and arms. I exhaustingly fell onto my pillow where glass pierced my skin and tears mixed with blood. I didn't care, couldn't care, my body was already numbed by my broken heart, I could care less about what happens to my lifeless shell.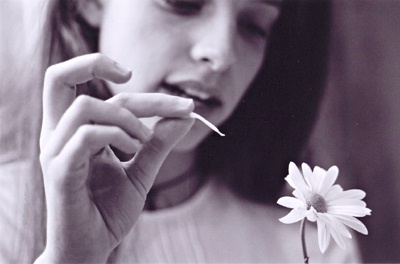 © Emily B., Houston, TX