Wanult Colored Locks
November 8, 2009
"I really like you hair Jane."

"Thanks Halley," I said with a smile.

My cousin Halley always tells me this. Every year at thanksgiving she either mutters or shouts these words. Usually she compliments the long lenth skimming my back or the walnut color. Her hair is cropped short and dirty blonde. She always used to complain of how ugly it was. While she only is 10, she is envious of my locks of rich, brown hair. She is too young to care so much about apperence, I always tell her, but she disagrees.

My mom always tells me that i am her role model. I always put that off because I am only three years older then her, and she probably doesn't look at me like that. Halley dominates softball and scoures the oppoinents on volleyball. Why would she look up to me? I do drama club and can't even make the school soccer team, so I play on a community team. Sure I am attrative, but so is Hally.

***

"I like your hair," Halley says to me, while I am by her bed.

"Thanks Halley," I softly whisper. Tears wet my eyes, but I try to choke them back. Halley was diagnosed with cancer last month, and started kemo theoropy last week. Her short hair remained on her head in clumps. She cried that she was ugly without her blonde crop. It broke my heart to come here, but it's not about me, it's about Halley.

***

I got home and waited with my mom. Aunt Lana, Halleys mom, was supposed to call when Halley woke up. She drifted into unconsiousness when I was letting her braid my hair. She didn't deserve this pain. Then Lana called.

"Halley is fine. She's having trouble keeping down lunch, but she is okay."

I silently sighed of relief. Then I got an idea. I yanked my moms arm, signaling i wanted the phone. She handed me the phone, Aunt Lana still talking about the condition of her daughter. She was close to hysterical when I suggested my idea.

"You would do that for your cousin? You are truly a saint, Jane" Aunt Lana replied with a touch of hope.

***

I walked into the hospital, where Halley was still contained. I tugged on my newly cut hair. It was chopped to my neck. When i walked in to see Halley she gasped.

"What did you do to your hair?"

She was spilling tears that I cut my hair. She cryed until I set the wig upon her head. Then, she cryed again. Even harder she cried, with joy that covered her face. She finally possesed the silky walnut hair. It went two inches past my new cut. I thought she deserved the longer part of my hair.

"Jane," she choked out, "I love your hair."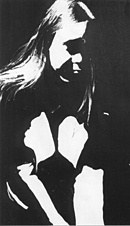 © Tabitha M., Kannapolis, NC