Me and Her
November 7, 2009
The type of person we are will always be different, just like everyone else, unique in our own way. This means that we are all special and unlike from everyone, but, at the same time, we all still have at least one thing in common with someone or something else. Taking this into consideration, I feel the need to compare myself to her, for Cathy is like fire and I am like ice, two elements that do not coexist with each other, and therefore should have plenty of differences and not as many similarities.
I guess we should start with our similarities, since those will probably be the hardest to find, so let's see. We both love the same guy, who claims to love us in return. He sometimes finds us mutually confusing and incomprehensible at times, which is probably because we are both girls and so he is unable to understand our complex way of thinking. We are brunettes, and both have two eyes, two ears, one nose, and one mouth full of sort-of-whitish teeth, though we do not look alike. We are also athletic, though, of course, there are differences, and limits on my part, there as well. We both love jewelry though, especially dog collars. We are also very loyal to those that we love and work hard to make sure that they are always happy. We love to see him smile and try our best to make him laugh. So, I guess that's our biggest similarity. We both really love him. We are his night and day, and we like it that way; that's something we both can agree on.
Unfortunately, the similarities end right about there. My name is Sarah; I am 16 years old. I am tall, with unmanageable, curly, brown hair. My fashion sense consists of jeans with any shirt, doesn't matter which one, as long as it serves its purpose as a shirt. I am a musician and a nerd, who is doing all she can to become a mechanical engineer; someone who wants to do something with her life. I am also a sarcastic person who is independent and doesn't like to show her emotions much. I am unsociable most of the time and not as outgoing as she tends to be. I also happen to be a dork and a klutz at times, unlike her.
Cathy is beautiful, not like me. She has gorgeous, brown wavy hair that is soft, manageable, and silky. She is probably around 21 in her time, though she looks much younger than she really is. Her beautiful hazel eyes are mesmerizing, unlike my plain brown eyes. Her sense of fashion, sadly, also beats mine, hands down. Of course, her personality is different from mine too. She is sweet and warm, someone who is there for you and knows exactly what to do to make you feel better. She is loveable and someone who really likes hugs and gets along well with everyone. She's also a very dependable creature, and, while I work to support myself in the future, she will probably end up always looking to him to support her. She is more athletic than I and can do things that I can never do with him, like play catch and other cool games that he really enjoys. She is graceful and majestic, a simply perfect creature. I guess, we really are two opposites, yet he likes us both just the way we are.
Cathy and I are like night and day, fire and ice. She is warm, beautiful, and sweet, like a shining, bright light, while I am cold, sarcastic, and independent, like darkness. We are really different from each other, though, of course, fire and ice also have some similarities. We both mutually love him and we are loyal to the ones we love. We also have a thing for dog collars, though I use mine as a bracelet and she uses hers as it is suppose to be used, around her neck. I guess our love for him and his love for us is pretty different as well, for I am his girlfriend and she is his dog; two girls in his life, who have some similarities and plenty of differences, whom he loves very much.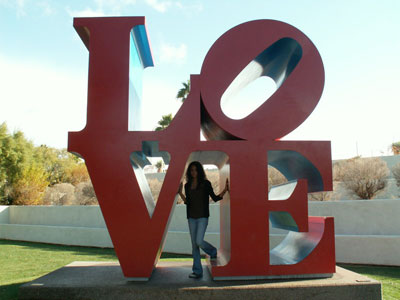 © Shannon E., Glendale, AZ