Goodbye
November 4, 2009
"I think it's time," she yelled to her daughter as she descended from the stairs.
She looked around the solemn home in which she has made her life. The dull green wallpaper seemed to give off this oozing look, like something was crawling out of it, alert and ready for action. She gently caressed the railing. It was still smooth; still sweet. The brown mahogany stairs creaked with old age. Kids would run down them all the time and she always knew when someone was making trouble. It's as though the stairs spoke to her. Her eyes glowed with remorse and thought. She was in her own world, until she was interrupted.
A teenage girl wearing a black elongated dress stroked the railing. Her blue eyes showed a softer quality that her mother's were missing. The gentle amber curls flowed down to her shoulders. Her rouge colored cheeks blushed as her mom smiled at her. But, as if almost instantly, her face turned to melancholy and they finished those stairs together. The girl grabbed the mother's hands and they descended the stairs simultaneously. No words were exchanged, only sharp glances. The innocence radiated so strongly in her daughter that she could not bear to look at her. She stared down at her lonely, strapped feet as a simple tear shed and let the time just pass. The daughter kept her neck straight, her head held high, and looked as though she was trying too hard to stay composed, like she could break at any moment.
They strode through the metal doorway together. The door opened to reveal a simple dark car already running. The woman and the teenager entered the back seat of the car and the car drove off, as if their chariot was being pulled by a ghost.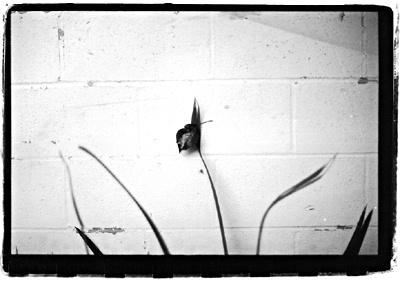 © Rebecca W., W. Hollywood, CA