Demons Within
October 25, 2009
"Come, come and play," they whisper in my ear. "It's fun, come, come…" The sound echoes in my mind. Conniving. Convincing. My eyes open and I see a cloaked man, his black hood over his head covering his face, twisting his finger in my direction, beckoning me forward. He spoke not aloud but in my head. His words entice me. Intoxicate me like a sirens call. I have no will with him in me. My arm comes up; I want to touch his hand, for him to take my hand and lead me to places unexplored. In my peripheral vision, my arm is white like the new fallen snow, my nails manicured beautifully; from this one glimpse I believe that I have been cast back in time to when plainness and simplicity was extreme beauty.

His hand touches mine. Fingers intertwining. It seems like a song, the smoothness and the rhythm of the movement. As is everything was meant to be. I look up innocently at the cloaked man. His laughter sounds in my head, bouncing off the walls of my skull like the bells ringing in the great cathedral of Notre Dame; causing an ache. Chaos. The sound frightens me, but I don't let go. Something tells me that if I leave, a terrible fate will befall me.

I stand up, my gossamer nightgown slides down my thighs, feeling like a black widows' web crawling down my legs. I am unsteady. It is as if I have never stood before. I am like a newborn calf that has yet to learn how to move. I shake on my unsteady foundations. It creates a thrill to be up. Not bound by my bed and their tangling sheets.

I try to take a step, but I can't. I look down at my feet inspecting them and I see that my feet are so pale I can see the blue veins coming through. Unnatural. That's what I think. Unnatural. I attempt a step again and I have moved my right foot slightly forward. I glance up again at my dark angel.

"Come…" He beckons again. A smile is in his tone. Too large.

With confidence I now move my feet repeatedly. I am now taking baby steps, while my Lucifer walks in time with me. I now smile a large toothy grin and I look confidently at my mysterious redeemer. I can feel his elation in my mind, almost an emotion too large for me to comprehend and register. His emotions hurt my mind.

We have left my chambers behind, walking in the dark of night, in the street, under the stars. My bare feet slapping the pavement. Cold and wet. With his delight obviously present, I become curious. I stop and face him, my left hand still with his. I reach up and flick back his hood. The sight I am not prepared to see.

I scream in absolute terror. His face is red like the color of blood seeping from a wound. Dark, thick slashes of black are carved into his face. His eyes are so dark they are almost black, but tinged with red as if he was feeding on someone. His teeth were sharp and pointed, barred in what looked to be an attempted smile. I try to remove my hand from his. I don't want to be near this creature of grotesqueness any longer. "Yes… Yes you do…" the voice sounds again in my head. "Come with me into my world… Come…" Physically my dark angel was terrifying, but his voice charms me; bringing me into a dream like state. I stay.

We walk forward down the cold, wet street, into the fears of the night.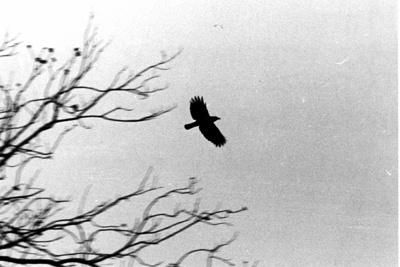 © Jacqueline T., Flower Mound, TX