Hallway Conversations
October 13, 2009
I was different from most people.
I had excellent hearing.
Walking down the hall in school that day, I could hear a variety of conversations. One about a boy, and the insipid details of everything he did, broken down by a disillusioned teenage girl. What he said, how he said it, and what he did while saying it. Pathetic.
A conversation about the chemistry test next day, with anxious undertones lurking beneath the surface of nonchalance.
A conversation about the next sports game, where it was important to beat our school's rival. The discussion of comparing our high school's quarterback to the other teams' soon became an epic battle between good and evil.
Underneath these superficial surfaces, I saw a girl in a relationship that undermined her self-esteem, I saw a perfectionist, and I saw a boy that "let his parents down" if he didn't score five touchdowns in a single game. My friends are just the same. We live in a world that is defined as healthy by us, but what is truly healthy in our own diseased minds, poisoned by our own flaws and insecurities? Even though I have that special gift to read between the lines, I know that even I cannot change myself.
Teenagers suffer many hidden tortures, not apparent ones that are displayed by depression or multiple piercings. Instead, the worst devils are disguised as the best traits.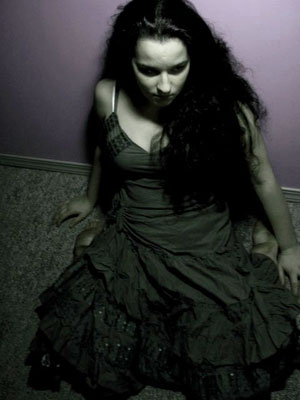 © Brianna D., Everson, WA