Me: Just Me; chapter one
October 9, 2009
"This can be your seat, right next to mine. Be happy with it, since I am the most popular here." Kilo glanced her eyes at everyone sitting at her table, then at the new kid in our school. The new girls name was Mizuki, or so I overheard. She had chest length dirty blonde hair and hazel eyes. My colour changing eyes had dropped a disgusted look to her outfit- pink short-shorts and a pink plaid belly shirt- a few periods ago. I don't think she noticed it though, or she probably would have said something about it to Kilo.

Then, she turned her gaze on me and my violet eyes as I stared back at her with an uninterested look. But hers was full with questioning, as if to ask me why aren't you like all of them? I frowned at her then rolled my eyes as she turned her attention back to Kilo, just in time to hear her speech about herself.

"Well," said Kilo. "I am the most popular girl here, and all the boys seem to like you. You are obviously one of us. Right girls?" Kilo looked at Chizuru and China, her "best friends". They nodded and smiled their perfect smile, as if they were trying to show off to everyone else. Then they looked at Kilo and spoke in unison.

"Yes, you belong with us. You are definitely one of us." They flashed their smile again and looked away, gossiping to everyone else.

Mizuki looked back at me and I glared at her, trying to give a warning sign so she'd leave me alone. She turned away again, but not before sticking her finger in her mouth and pointing to Kilo, rolling her eyes.

I almost felt the urge to smile then.

"Um," Mizuki squeaked with her soft, lightweight voice, interrupting Kilo's "oh-so-important" conversation with her on again off again boyfriend. "Um, so, who is she?" Mizuki said pointing my way. I froze and looked away at the wall, changing my eye colour back to dark red.

"Ha." Kilo smirked in my direction, and I wanted to scalp her perfectly bleach blonde head with my jack knife. "Her name is Tora. She looked so different, we had to give her her own clique. She doesn't even talk when she's called on in class." She stared disgustedly at my blue, green, and dyed black hair, and my tripp pants and black sweatshirt.

"She's a total freak!" said China. "And, just look at her eyes. I mean, dark red? That is sooo creepy!" She shivered. One more word and I was going to shank them all.

The bell rang and everyone walked out. I waited for the last person to leave, like always, and headed slowly for the door.

"Hi!" Mizuki popped in front of me and I stepped around her.
I didn't even want to know what she was plotting.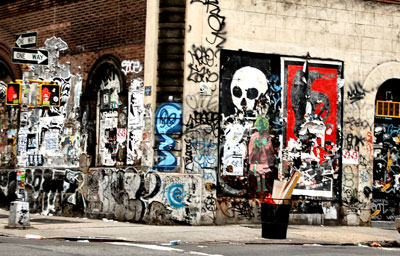 © Jennifer P., Massapequa Park, NY