The Last Captain
MAG
Can you see yourself drifting on a magic carpet? Do you see fellows with big eyes and exaggerated moustaches? Watch them lick their fingers and twirl the tips between thumb and forefinger. Shall this be my last pirate? Can this truly be the last time that a great plume shall adorn the crown of a great captain, motley crew in tow to carry the snuffbox? Yes ... this shall be the last, the final note in a long vibrato and I shall lay the captain to rest with his treasure.

Why must this be? Why can I not go on with them to sail off the edges of the canvas and beyond the punctuation of the sentence? Whatever awaits them, I cannot follow. They can freeze on a whim, forever immortalized with swords drawn in vigorous piracy. Or perhaps crissing and crossing on lines of wide rule, enclosed in a mental box of adjectives and verbs, yo-hoing and rum drinking till the end of the period. Savvy. To this I am not.

I stay behind; I must sit in the brig of my body and tally up the grains of meaningless sands that encompass my world. Left on the beach with a pistol and no rum to ease the passing of my treasure. I don't have a pirate name, I don't have long enough legs to stretch myself forward and find someone to carry me away. I can't tiptoe along the lids of the world, hunched like a shadow in the inner shell of everyone's conscious. Instead I lie alone, staring into clouds that have no form. Palm fronds are no comfort; far too many people have kidnapped these hands from their roots and made them far more shallow than they truly are. They have my sympathies. So it seems we are both destined to lie deeply buried beneath a mountain of hourglass sand, rooted to our spots, forced to wilt and then die in an inferno. So far, commiserating has proven a poor drug for our cause.

How I long to billow in the sails or cradle in the crow's nest; I would even encase myself in the drifty wood of the ship and be a mermaid to crest at the bow. Anything to be interred within a sea shanty and seated in a salt wind in a nursery book. But instead, here I lay, beneath formless clouds, lonely adult clouds, with a pistol, marooned by salty dogs that meant no harm. The world that they cannot see but fear, the world outside a hardback cover, has bitten me. It has made me potent to them. And so I must do the noble thing, for they can no longer draw the poison. I relinquish my shoes, walk toward the palm trees and allow the death of my childhood to take me.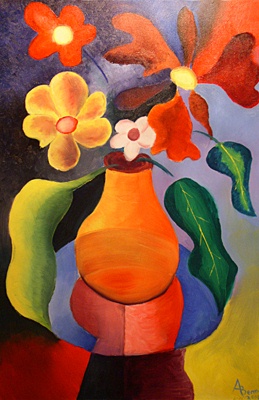 © Alexander B, Highland Park, IL