Lily Shards
MAG
Through the crowded cobblestone streets
The peasant sprinted.
Dressed in mud-caked rags
With stale crusts in his stomach.
A host to a dozen parasites
He tidied as best he could for the wake.
The name of the casket's occupant was
Shielded by flowers and mourners.
The vacant church after the wake gave
Him an opportunity to take
A flower from the mass
Without being found out.
Home he ran - a lily hidden under his rags.
High he placed it - it was most important.
The white petals began to fade.
It needed water and
A vase shining with beauty and color to match it.
Stained glass of the Labors in the windows
At the church sufficed for his necessity.
Shards of shaded window protected the lily
Much better when the pieces were whole
And in the church's frames.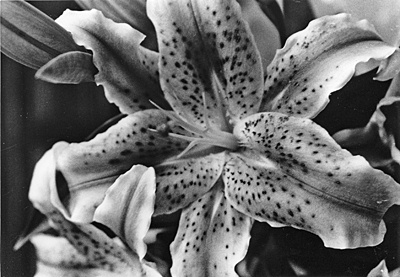 © Jenni W., Jackson, MI