My Name
August 21, 2009
Emily. It's a common name. You've heard it a million times. Just think about it. Emily, Emily, Emily, Emily. You dare to utter the name and three, four, five girls look up, not just one.
I could have been Natanya, Eliana, Amani, Joelle.
If your name defines you then I am a normal, average, generic girl like the billions of other Emilys on the planet. They're all the same is what people think. She's just Emily. No big deal. They are all walking robot clones of each other. Emily number one, Emily number two, Emily number fifty-three thousand.
I could have been Savannah, Allegra, Charity, Lisette.

I was named after my Aunt Ellen who died of leukemia before I was born. She was a great person I've heard, and believe me, I'm proud to be named after her. But, I don't want to follow in her footsteps and be diagnosed with leukemia just a few weeks into college. I want to live. I have to live. I want people to say, oh that Emily? The one who invented this/who built this/who wrote this? Oh she was special. She helped the world. She wasn't a normal Emily.
I could have been Felicity, Arielle, Kassandra, Cadence.
I want to be unique. I have to be unique. It's like being claustrophobic and trapped in a small dark room with no way to get out. I want to soar above others like a dove above an ocean of fish. I want to stand out and be different than everybody else. Normal is so…..boring.
But I could have been Charlotte, Raquel, Ekaterina, Lynnette and it would have been a whole lot easier.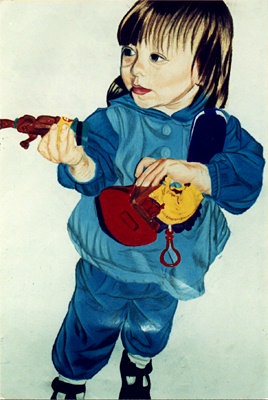 © Donna O., Kannapolis, NC