A Frenchly Beginning
August 19, 2009
Her hand trailed against the gray metal fence as her feet dragged across the gray asphalt. She felt the new suede moccasins, warm against her feet. It was her least favorite and most favorite day of the year. She smelled the familiar odor of the exhausts from the long yellow school buses.

Her mind meandered aimlessly like a young kid in a candy store, veering in different directions. Though as she wandered, she thought of the year ahead of her. She thought of the prospect of making new friends; being new to the school last year, she had hardly made any. She thought of the torture of another year of Mrs. Sylvester, her well hated and all round bizarre French teacher. She smiled as she though of Mrs. Sylvester's strange sayings. Through the entire summer, Mrs. Sylvester's voice yelling, "Regardez, ici!" Kept ringing through her head. She thought of trying to actually make an effort before senioritis kicks in. She thought about Drama Club and how it better be good for her senior year.

"Those are some epic purple pants."

Emily turned around and she saw a tall kid with blonde colored short hair and brown square glasses. "Well thank you," Emily replied with a smirk, a bit surprised.

Emily breathed in the welcomed smells of new shoes, freshly cleaned floors and the musty aroma that always seemed to be a part of St. James High School. Emily looked down at her schedule for the first time and was of course overjoyed to see Mrs. Sylvester as her first period class. She trudged along towards the windowless cave known as Mrs. Sylvester's domain.

"Emily How have you been? I haven't seen you in like so long!"

Walking behind her at a brisk pace was none other than Kevin Swanson.

"Oh, I've been great, Kevin. And how 'bout you? Didn't you tell me you were going parasailing?" Asked Emily, struggling to keep a genial look on her face.

"Yeah, it was awes- I mean, yeah, it was cool. It was like tons of fun."

"Great, I'm glad to hear it. Talk to you later, Kev." Replied Emily as she walked away quickly, knowing she wouldn't be able to withstand another mere minute of torture with that kid. Kevin Swanson was the kid that everyone hated. Kevin wasn't mean, he wasn't socially awkward, he was simply nothing short of obnoxious. He also had a bizarre way of never finishing his sentences, and deciding to start new ones. In fact, students from St. James High School were brought together because of their pure hatred for that kid. Oh, poor K Swan, as any St. James kid would say.

As Emily walked down the hall she saw both familiar and unfamiliar faces. She wondered what new faces she would get a chance to know and what old faces would slowly drift from memory. A new year full of new surprises. A new year full of hope, love, disappointment, joy, and everything in between. Hopefully, a senior year to remember. Emily was approaching Denise Sylvester's horrid chamber, but was soon sidetracked when Brittney, one of the few friends she managed to make last year, was heading her way.

"Emily! Oh my god! How are you! How was Australia? Did you see any kangaroos? Er- scrap the kangaroos, any cute boys?" Asked Brittney, energetic and peppy as always. Emily couldn't help but smile at her fellow Dram club member. Brittney really was one of a kind.

"Well, yeah. I mean, it was amazing. It was so beautiful, and Sydney - oh my god, I think that'll be my future home. And as far as the boys…I saw a koala. They're so cute!"

Brittney cracked up laughing, banging into a neighboring locker. "Emily!" she exclaimed, breathless, as her laughing fit was winding down, "this year, we'll have to fix that."

"Oh lord, please no repetition of last year's shenanigans. Brittney, how was your summ-"

"Listen, I wish I could talk, but I need to see Ms. Breton. It's our senior year, Emily! Can you believe it!?"

Just like that, as quickly as Brittney swooped into Emily's life, she swooped back out, like Cinderella's fairy godmother.

"Emilé! Bienvenue! Comment se sont passés ton vacanes? Tu es très belle, aujourd'hui! Tes cheveux, c'est très chic!"

As soon as the fairy godmother had left her, the ugly stepsister had stepped back into her life. Emily was looking at the one, the only, Denise Sylvester. Today was she was sporting animal print pants, green coach shoes, and a lime green jacket. Denise was of course as fashionable for the first day of school as she always was.

"Yeah, I had a good vacation. And thank you, yeah, I uhm got a haircut." Replied Emily with a forced smile. "How are you doing, Mrs. Sylvester?"

"Tres bien! Tres bien! Actually, I was in Antarctica this summer. C'est tres belle!" Said Mrs. Sylvester with a very, fake and zealous smile on her old, wrinkled, and liver-spot infested face.

"Really? Antarctica? Hmm, Wow. See any Penguins?

"Oui, oui, Madammoseille. Really, they're some very interesting creatures. You should go there at some point I your life, Emily. I can just tell, you would love it there. See there were even these-"

And just as Denise Sylvester was getting to the crux of her thrilling tales of the Arctic Circle, she caught sight of her prized projection machine being wheeled away by a kid running faster than lightning. Mrs. Sylvester became flabbergasted and immediately jumped into action and ran after a kid in a yellow shirt yelling, "Veni, ici! Arrete! Arette! Arrete!"

Watching Denise run down the hall was quite a sight. Very few students would have expected her to have the agility and speed of an Olympic runner. To be honest, she could probably beat half of the track team in a race. Emily, completely perplexed, peered around the hallway to get a better look. She broke down laughing at the sight of Mrs. Sylvester with her arms wailing in the air, yelling back and forth from English to French.

If there should be three things known about Madame Sylvester, they should as follows. Mrs. Sylvester's one and only prized possession is her projection machine. Mrs. Sylvester gets up at three in the morning everyday for her daily run. Also, Mrs. Sylvester is one of the most unintelligent people to be teaching at St. James High School. These simple three facts; they can get someone very far in succeeding to ruin her life. The yellow shirt kid had obviously taken note.

"Well, you very welcome."

Emily did an entire 180 degree turn to see to her amazement the kid in the yellow shirt, completely out of breathe.

"Wait, no. Weren't you just that kid that…"

"Well yes, yes I am a kid. Good Observation, Sherlock."

Emily laughed and replied, "No, you were the one – the one with the projection machine?"

"But of course!"

"Hah, that was great, but I must ask, what possessed you to steal a teacher's projection machine?" Asked Emily with a trace of wonder and admiration on her face.

"I'm glad you asked. First off, I do everything possible to ruin Mrs. Sylvester's life. Second, I thought I would lend a hand to a damsel in distress, who was caught in a trap, listening to the stories of Sylvester's tundra adventures. You know, everyone should do at least one good deed in their day."

"Oh really? So making a teacher run after her projection machine is what you call a good deed?" Asked Emily with a sly look on her face.

"Hey, it's Denise Sylvester. Your telling me that you didn't appreciate my act, all put in great lengths just for you?"

"It would be a blatant lie to say it didn't brighten my day."

"I do aim to please."

"You know, kid in the yellow shirt, I like you. I'm Emily" She said as she extended her right hand forward.

"I'm Fred. I like you too." He Responded with a big wide smile on his face, "So, will you be joining Mrs. Sylvester and I every first period this year?"

"Yep. I don't think I could think of any better way to start off my day."

"Well, from the looks of things, seems like it'll be an exciting year."
Emily bashfully replied, "I can only imagine."
Somehow, thought Emily, I don't think this year will be so bad.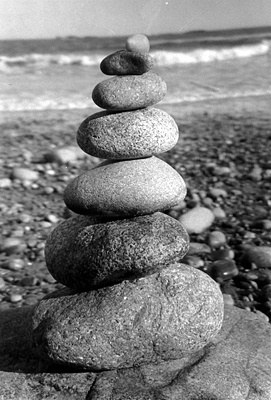 © Vanessa R., Marblehead, MA