Paranoid
August 19, 2009
She was panting, becoming more and more wary every step she took. She had run for blocks in the darkness, away from her predator. Her body was starting to fail her, any minute she'd collapse. But her mother's convenience store was just up ahead and she could bear to run that short distance. When she reached it she ran to the alley behind it, rather than going in. Her mother who was inside would question her. She couldn't bear to lie one more time.
She hid herself safely behind a garbage bin; hiding from him would give her enough time to contemplate her next move. Why was he after her? She already knew the reason. He was aware of her secret, and he had been trailing after her since the night it had occurred. The real question was why couldn't he just leave her alone? It was an accident! An accident she caused and hadn't taken full accountability for. But she was still upset over it, mourning every single day. That night had become the center of her thoughts. Didn't he know that she was drowning in her own guilt? That she was truly sorry for her actions?
She heard his loud footsteps getting closer. She saw his shadow enter the store, searching for her. Unable to find her in there, he went back out. Surprisingly rather than continuing down the road he entered the alley as well. Her heart was beating like a hammer, she herself could hear it. Her stalker came closer and closer toward the reeking blue trash bin which she had been hiding behind. He spotted her and they locked eyes for what seemed an eternity to her. He was going to punish her, she knew it. Suddenly her voice seemed to take over her mind, and the two words came in a soft delicate whisper mixed with a dose of fear.
"I'm sorry." She said in a voice you could barely hear.
He continued to stare at her questioningly, and then surprisingly he nodded, his eyes understanding. He looked at her, and then his eyes shifted toward the window of the store where her mother could be seen clearly. She knew what he was implying. He was going to give her a second chance, a chance to fix her own mistake. To tell her mother what really happened that night. With that, he walked away, disappearing into the darkness. She then took a deep breath, and walked into the store with a feeling of gratitude and new found courage. And she knew deep down that he'd helped her find that bravery she so badly needed. For what she was about to face was much worse than what she'd experienced these past few months.
She had to face the truth.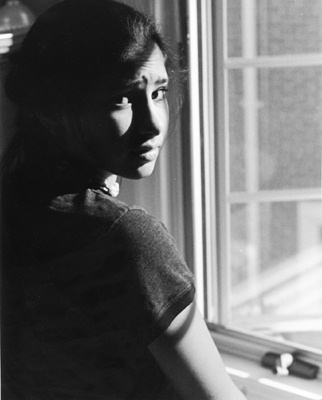 © Jennifer H., Bethesda, MD