The Conversing of the Edible
June 30, 2009
My kitchen is alive. Talking to me, and alive. It won't shut up, no matter my pleas. I have a gift, of communicating with food, but rather I understand it to be a curse.

We will not sit back and be served for dinner, you mercenary! cry the carrots as I reach cautiously for the fresh produce, after recently discovering they could bite. Fresh; the grocery clerks have no idea. All I want is a nice chef salad; this is completely out of line.

We revolt! It's an outrage at the utter disconcert of the human race towards carrot rights! We hereby defy the human race and propose an over throw of their species as set forth by carrot kind all over the world! Rise up, brothers and take this treatment no longer!

The potatoes weep forever still mourning the loss of their brethren to last night's delicious potato salad. The eggs console with one another, heartbroken after this morning's omelet fiasco. My food is uniquely opinionated. The carrots are mouthy. But the lettuce, both iceberg and romaine, have an overwhelmingly charismatic draw towards the lesser educated on food preparation, like the scallions and mushrooms. The yogurt is the anxious, hand wringing type; of course screaming bloody murder every time I open the refrigerator door, crying things like Spare me Spare me! The bell peppers are awful needy and demanding. The divas of the refrigerator; always insisting that the temperature is spoiling them. And apart from everyone else in there own little world, the strawberries. They seem willing to go, as if there is a world better than this awaiting them in the fluorescent lights illuminating my kitchen. If they were human, some may seem them as emo, but they themselves see each other as visionaries. They appear to have grasped the concept of spoiling, and would rather quench my hunger and do something in this world then end up moldy in a landfill, never having fulfilled there purpose. When I decide I need some for a tasty fruit salad, they don't fight me. No, instead they make small talk; wondering about the red socks of all things. If I knew any better I would cast them as seemingly oblivious or unconcerned by there fate at the chopping block. But my personal favorite has to be the tomatoes. Just the other day I was rummaging around in the produce drawer, while ignoring the disrespectful comments from carrots and trying to block the yogurts screams, I dug out a tomato and headed to the sink. These guys are the con men, mob bosses, and swindlers of the edible world. You'll see.

Hey buddy. You don't want to do this. I'm your best man in there. I am all for you. The head honcho of the We Love Humans Club. Yah Yah. I was the founder you see! I am an admirer of yours! Like a crazy teenage girl and the Jonas Brothers. That's us, you see; me the desperate teenage girl and you the Jonas Brothers!

He was telling me as I washed him under the cold faucet. Little did he know that I did not find being compared to the Jonas Brothers to be a complement. So with him, I decided to make the death slow, more slice than dice. It was more fun that way. Now that I think back, remembering our exchange reminded me of something out a pleading scene in The Sopranos.

Hey! Amigo! Oh good now I am clean, so I can go back in there and I can get back to the PR work I am doing on your behalf! Or maybe I could be your inside man into the carrots next move. Like an agent within the alliance for defiance. Infiltrate their fortress of insolence. Permeate their premises of insubordination. Get the 411, the skinny the word of mouth, on what be their next move. And you and me, buddy, we could hit 'em right where they least expect it you know. Bam! Arrivederci Baby!

I shook my head humorously as I sharpened a butcher knife right before his eyes, well if he had eyes. The naïve fruit thought he would be my inside man (tomato?) when really he was about to become a delicious addition to my mozzarella in a fresh bruschetta I was preparing for lunch.

Whoa! Easy there with that knife. I gotta wife and kids in there! Just little baby cherry tomatoes they are. They gots my stem, you know. You got kids? A husband? Come on you can tell me, we are brothers in arms you know. Fighting for the cause. I am real tight with the strawberries, so that makes us practically family! You want to disappoint them with killing-gulp-me? I am a god guy! You like golf? I could be you golf buddy! Come on whatdya say? Hmm? Pals? Buddies? Chums? Cohorts? Partners? Mates?-

Unfortunately before he could finish his spiel, I "cut" him off. So sad.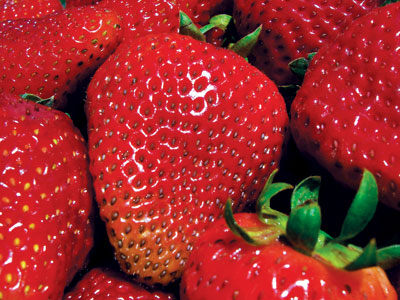 © Sarah O., Greentown, PA