Eighteen Candles
July 20, 2009
Everyone has a special time, or place, or a memory that epitomizes the fundamental makeup of our personality; some of us hide it and others rejoice in it. For some, the memory is a proposal from a twenty-first century Mr. Darcy, and others it is the day his infant takes two tiny steps. For me, the soul of unorganized experiences and memories that I guard with sword and shield reside in the years of solace in my mother's kitchen.

My first memory of her kitchen occurred on my sixth birthday. We stood in front of the bathroom mirror as Mother rolled the spongy, pink curlers through my hip-length auburn hair. She pulled my navy-blue tights up my thin legs, and slipped my velveteen, burgundy dress over my arms that were sticking up like a pair of twigs broken from the family tree. We returned to the kitchen where she began to combine multiple powdery compounds within a mixing bowl with a heritage dating back fifty years. We talked about taking walks in the park nearby and sang nursery rhymes while I took the handle of the mixer. I always got the task of mixing because I was the "best mixer-of-birthday-cakes that had ever graced God's green soil underfoot"--or so I was told anyway. Mother picked up the bowl and scraped the contents into three cake pans. The timer was set for precisely twenty-seven minutes; an insight into one of the many branches of my mother's wisdom.

Now she turned to me with glazed eyes as she lifted me up onto the kitchen table juxtaposition to the Candy Land game that took permanent residence on the table--it was replaced by a Monopoly board when I was ten years old.

As I sat on the table, I traced my finger along the colorful paths of Candy Cane Lane while my mother unraveled each curler from my hair. The timer hummed a
pseudo-cheerful song. She placed the last curler in my hand and hastened to the oven. She opened the door with the yellow hot mitt Great-grandmother made long ago, and removed the trio of red velvet cakes.


"Okay! Shall we play again Baby Bear?"
I nodded my head vigorously, curls bobbing with every sway of my head, and replied,


"Always, always, always!"
We began playing our usual game of Candy Land. I cheated while mother conveniently never noticed.


"Hold on babe, time to frost the cakes."


"Awe! Can't we keep playing Mom?"
Mother gave me a quick sigh before saying, "Why don't you move for me?"
This idea appealed to me very much.

With the game resumed, mother frosted three cakes with images of a purple dinosaur, hot-air balloons, and a blue bear with storm clouds embedded into his abdomen. When the cakes were frosted, Mother returned to her chair beside me at the table. "Okay BabyBear, who's turn?" She asked as she dispersed eighteen candles evenly over three cakes.

Ignoring her question, I asked her if I could put a few candles on to the cakes as well. She complied and handed me six candles of varying colors--all of them stripped with a coiling strand of white. When the task was completed, Mother struck the head of a match across a cool burner on the stove and lighted all eighteen candles. Mother picked me up in her arms so I could better reach the table.


"Make a wish babe!"

I squeezed my eyelids tightly together as I silently mouthed the wish of my utmost desire. With every ounce of breath I could muster, I blew out the candles. Mother enveloped me in her warm arms as she asked,

"What did you wish for?"
A big smile wrinkled my face as I said,
"I wished for Daddy to come home!"
Her eyes, already glazed with shadows of regret, filled with unshed tears as the words escaped my mouth. I was shocked and dismayed. I thought she would be so pleased with my wish! I knew her wish was the same as mine--and to this day I believe it still is. I was unable to react to this sudden alteration of mood.

After a few seconds, this unpleasant phase passed and my mother's features slowly began returning to her normal bright appearance. She hugged me tightly once again as she said,

"I'm sorry baby, not this year. He's not coming home this year."
With that she took the knife in her hand and asked,
"Which cake shall we cut first?"
I paused momentarily to comprehend the full scope of the event.

"Let's cut them all!"
She hesitated slightly; then with the sigh of a broken spirit and a quick smile, she agreed.



As I grew older our kitchen housed many adventures, from the six dozen doughnuts buried in the flowerpots on the porch to conversations of philosophy, love, and life over cocoa and sugar cookies. My sixth birthday is one of my earliest memories in her kitchen--the heart of my childhood. Now years later I realized my father will long be absent, yet not forgotten, in my life. Although I did not have a typical family structure I did have the joy of my mother's love and eighteen candles.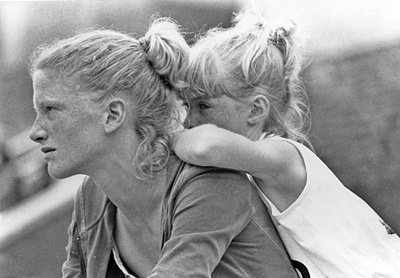 © Felicia F, Marlow, OK