It's Your Turn
January 14, 2009
One, two, the little girl in the red polka-dotted dress smiled and screamed with joy, chasing after the white bird...


I rushed through the busy streets of New York with the same briefcase I used everyday for work. I passed a few yellow taxis until a traffic light stopped me from walking at W. 43rd St and Broadway. I was able to see the magnificent lights of Times Square from where I was standing, but that didn't help my nerves. I continued shaking.

I crossed the street and entered a small Panini shop, where I picked up a Portabella. As I waited in line, all I could think about were the sun-dried tomatoes, with the roasted mushrooms and pesto, and what I was about to do in the coming minutes. I paid for the sandwich and left.

Outside of the bistro, I sat down at a little table and unwrapped the sandwich. Before I took a bite, I said a couple of prayers to Allah and opened my briefcase to see if the package I received earlier that week was still secured inside. I caressed the bomb with my fingers.



Earlier that morning, I took a hot, steamy shower and shaved. I put on my Sunday's best except today wasn't Sunday; it was Wednesday. I looked out the window of my Brownstone apartment as I tied my tie. The cars were moving slowly, but the day was moving quickly. I was able to see the business men and women running to work in their suits. While drinking their Starbucks, they also managed to hold their daily issue of the Times, carry their briefcases, and hail the next available cab. Today, my briefcase wasn't filled with the usual crap, like my business plans and graphs. Today, it was filled with explosives. I clasped the case tightly shut and left my apartment knowing that I would never lay eyes on this place again.



A taxi honked at me. The rush of knowing that I had just eaten my last meal mesmerized me. I found myself standing in the middle of the street. I guess I had day dreamed a bit.

I am the management director for Happily Never After Designs, a rather large creative firm that advertises "making designs, websites, and logos for the best," or, as I liked to describe them, "fraud." Yes, the company I work for is a fraud, except no one knows it yet. I am an artist, and a good one too, but after I got promoted, I didn't really get to do much of that anymore. Much more, after I got the package in the mail with a bomb and a note attached, which read, "It's your turn," my whole future ahead of me disappeared. In that instant, my artistic capabilities, not to mention my entire life, all just went to waste.



It was a cold night when I received the package. The snow outside my small apartment froze and so did my body; I knew what was contained in it. I knew what to expect since my family has been through this before, but I still couldn't shake my disbelief. My family had a secret-- they were members of the terrorist community of Nifi, a small town in Saudi Arabia. Of course the package had to come now, right when everything was going so well for me.



I continue walking through the gorgeous day with the briefcase by my side. The streets were filled with smiling people when suddenly a kiss of guilt punched me in the face. There was a tint of relaxation and peacefulness about New York that I rarely saw around here, or maybe that was just the way I saw it. Times Square was just beginning to wake up as the Broadway matinees would be beginning soon. Tourists snapped pictures. People played music on the street. Scalpers screamed out shows and ticket prices. It seemed to be almost a perfect day.


I settled on a small bench and sat down so I could soak everything in. A violinist playing a few paces in front of me caught my ear; she was playing a melody I remembered from my childhood; it was a sad one. When I first moved to New York and was studying at Tisch, I got a phone call from my older brother that our mother had passed away. The song, which was playing on the television as I got the phone call, was the exact same one this woman was playing. It was a nice melody, though it brought back mixed memories. I began thinking about my family back home. What will they do once my job is finished? Is my younger brother going to go through the same? I loved what was going for me in life right now, and I didn't know why I had to explode this magnificent square where more than a million people walk on every day. If I don't do it, would there be worse consequences for my family back home? I had to do it, even though I didn't want to. The consequences of my actions did not matter to me at this point, I had to do, what I had to do for my God, Allah, and his followers. No questions asked. But my mind made up its own mind. It asked those questions.

It seemed like time was chasing me; I could not escape.

I thought about my family and friends back home, and my job here in New York. I had made a lot of good friends, and had a girlfriend named Janet. She was a white American. There was something she liked about me, maybe the color of my skin, or maybe she thought I was exotic, little did she know. I never really knew what attracted her to me, and it didn't really matter.

I stared at the girl wearing the polka dotted dress, as she chased down some birds sitting on the street. She reminded me of what I was going through at the moment, striving for what I wanted in life, except there was always a glitch. There was this one white bird, while the others were black, that she kept on trying to grasp. Every time it would fly away and move to another part of the street, but she kept on running towards the bird, trying to catch it. She was a cutie. In my life, I always wanted to own my own design company, but now I couldn't because of my obligation to Allah, my God. Both, the girl and I wanted something, but in a matter of seconds our dreams would fly away.

What is life? I thought about this question; it kept on playing inside my head like a broken record stuck on those three words. Everything came to my mind, but I couldn't stay focused because a Victoria's Secret Shoot kept on flashing lights in my direction. The girls were in bikinis in front of some billboards. My girlfriend always told me not to stare at other women, but I couldn't resist my admiration for the beauty of a woman's body. I loved them, and it was my last day here, so why not? Their lingerie wrapped tightly around their bodies, and their curves showed off the perfect contour of what a girl should look like. The things I love in life would be taken away in a matter of seconds, like beautiful women, my family, friends, girlfriend, and my art.

I got angry at myself, how could I get so distracted at a time like this? I moved to another bench. All I was thinking about was life, and why am I doing this. I was thinking about my future, and how Janet would react to what I was about to do. My life flashed back at me, from day one to right now. All my childhood memories suddenly went downhill.


The prospect of me murdering such innocent people made me feel sick. It was a duty I have to fulfill, but I almost feel tempted to stop. The little girl playing with the birds? What has she done to deserve such an ending to life? The girls modeling on the other side of the street, what have they done other than strut their beauty? What about the violinist? All she did was make people connect with her music and maybe collect a few tips on the way. Why was this our custom? What were we really here to gain in life? Why is our life here taken for granted? I was just a man playing by the rules, and it was game over for the rest. Allah I guess you won. Yeah... Congratulations. Am I losing my faith, am I just a fraud, or is this me regretting what I know I must do?

I couldn't afford to get distracted again. I willfully forced myself to think about my joyful afterlife with Allah. I wasn't selfish and I wasn't a murderer; at least that's what I told myself.


... but it just flew away, two and a half, the girl stared at me raising my hand into the air, curious to know what was about to occur, three, Allah, all I heard was silence, New York was quiet, the birds were quiet, the world stopped except for a "Mama, where are you?" Tick.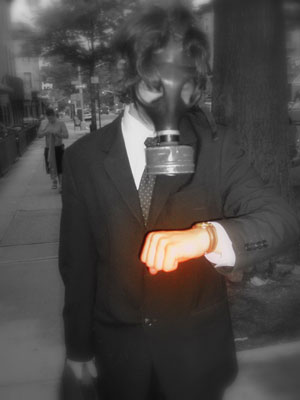 © Zachary P., Brooklyn, NY