The Cold Monster
May 29, 2009
Chairs slam as kids grab their bags, running into each other while attempting to make it through the door. What nameless horror has gotten loose inside your next period class? Could it be a chemistry experiment gone wrong? An army of rabid crack squirrels taking over the school? Then the nameless horror emerges, nose dripping, eyes red and watering. It must be the plague, or at least the swine flu, but no it's… the common cold. How could this simple germ have the entire class in an uproar? The world may never know.

I hate it when people treat you like you've somehow contracted a deadly, unknown virus when you only have a runny nose. Two days ago you were best friends; now they all run when they see you coming, afraid they'll catch your simple cold. If you've gotten a cold, chances are your friends will get it too. They probably caught your cold before they even knew you had it.

When you live at a boarding school, sickness goes around about as fast as a good piece of gossip. You can't hide from it, so why try? If we're all so afraid we'll catch a little cold, why don't we just put everyone inside plastic bubbles? We'll all just buy our own personal sterilized, plastic bubble. No human contact what-so-ever. You'll never worry about catching whatever the poor kid sitting behind you has again. Maybe we'll even rid the world of sickness. Unfortunately, once you're safely inside your bubble you'll never see or touch anyone. Ever.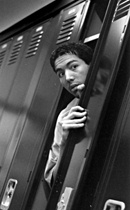 © Paulina A.,Marblehead, MA