The Guilty Secret
May 29, 2009
She applied mascara delicately to her lashes, sweeping the wand swiftly. She opened her eyes wide to make sure she was the spit of perfection, as she placed the tube on the dressing table and proceeded to use eyeliner. Today was an important day. It was her and her husband's 10th anniversary and they agreed to spend it on champagne corks and bad dancing. She pictured the evening perfectly. They would wine and dine in a foreign restaurant at the west side of town. The evening would end with a tender caress and a secret that crush his heart. She was leaving him, for a younger and more attractive man, a man more worthy of her devotion and more apt for his aristocratic lifestyle. The man she was currently with was Hispanic, in his 40s and to her parents' disapproval, owned no more than a tie and tweezers. But she married, more rebellious than heartfelt and now lived with a poor and naive man.

A man who would always forget to iron his best suit. She sighed when she had noticed not ready on the bed as she had hoped and started towards the wardrobe to retrieve it, but to her surprised, it was locked. She pulled hard at the chestnut doors, but it would budge. The lock looked simple and she, not to be taken for some callow and inexperienced lady, took her hairclip out of her hair and bended it so it was a thin strip of wire. She picked at the lock and with no endeavour, the lock came out in her hands and she proceeded to open the wardrobe before something heavy and cold fell on top of her.

She assumed, as always, it was her husband's messy and hatred for folding that was the cause of her ensnared it a sea of suits and was not the least bit impressed, but all that could account for the temperature. She proceed to squirm and wriggle for amongst the suits and as she did, he screams echoed through the house.

It was not suits that had collapsed upon her, but a man. A man of colour, with curly black hair and large hands that had sprawled across the floor. She had not needed to turn him over, for his ring told all. He was her lover.

Her knees buckled and she fell over, still in horror over what had happened. She managed to collect herself, when she heard a voice. It was her husband, coming up the stairs to investigate the rucus and her screams. With all the strength and courage she could muster, she picked up the corpse and hoisted in into the wardrobe and shut it the best she could. She hurried over to her vanity table and sat down. She grabbed tissues from a box nearby and dabbed her eyes to get rid of the illusion that she was crying.

When her husband entered, he asked her alarmingly what had happened. She explained it was merely a spider and that he should have go back down stairs. He entered further into the room and snatched his tie from a table near the bed and explained he should get his suit from the wardrobe. Panic struck her eyes. She quickly reassured him that she would get it and he should just go back down stairs. He disagreed and insisted he would get it. Her breathing got heavier. He asked her what she was so worried about. He walked up to her and rested a hand on her shoulder.

And that was when he noticed a hand sticking out of the wardrobe. In her rushed attempt to remain her normal position, she had forgot to lock the wardrobe and the weight of the corpse leaning against it had pushed the already ancient wardrobe open. But her husband didn't go into shock; cry out, look for help. He snickered and his grip tightened.
That was when she knew and he had killed her lover and had found out about her meetings, which she thought to be secret. He held tightly onto the tie in his hands, as she slowly and calmly continued to apply her makeup, timidly picking up her red lip stick and applying. He steadily put the tie to her throat and put his lips to her ear. He pulled hard.

"Secret," he whispered, as she drew the lipstick down her cheek.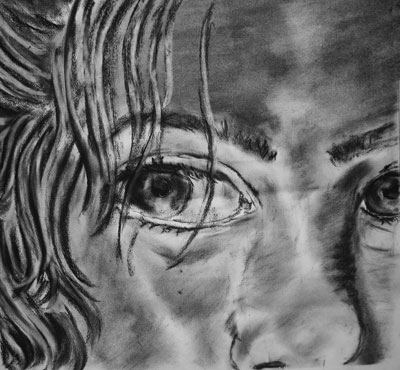 © Brooke W., Weston, MA