Aboard a champion
May 25, 2009
The bell rings and I know its time. I put on my silks and prepare myself for the ride of my life. The trainer just put the equipment on the stallion and is giving me some last minute tips.
"Now don't forget to watch out for Rouge, that giant grey. He's a bother, but if you wait till the end to go after him, he won't have much left."
We exchanged nods and he gave a last pat to the horse before we set off. He's now heading to the stands to stand with the owner, Mr. Luis Large, who never says a kind word to me after 5 years of working for him.
As we emerge unto the track, I can see Rouge, the favorite to win. Behind him are Little League, Newport and Lucas, all small, sturdy chestnut 3 year olds. My horse, Strange Vonner, is the underdog. Winning 15 races, he raced 30 times and his owner almost had no faith in him. It was because of the trainer, David Martinez, that Strange Vonner was in this race, or even racing at all. Strange Vonner, is nothing like his father, champion Silver Miranda. Silver Miranda won every race he entered and produced prized horses. Just last year, his daughter, Imani Bennett, won the Breeders' Cup and was headed for even more victories.
"Its okay, SV, we're gonna do just fine," I tried to coax the nervous black stallion. I could feel the unsure energy; the young stallion was second guessing himself.

We're nearing the gate and Strange Vonner has calmed down a bit. His step is quicker, livelier and more confident than before. His liveliness soothes me but as soon as we catch sight of the tall, bulky bay Rouge, the nervous energy returns.
"Now don't worry, everything will be just fine. Just relax and do your best." I always hated clichés, but we needed one badly. Realistically, we were up against winners, champions, promising young horses and Strange Vonner was the dark horse, the runt, the loser, the failure, but for some reason, that lively step returned. We were going to be buried in the dust, laughed and mocked. I might be fired and Strange Vonner will be marked a failure and we both end up alone. But the lively step kept bringing hope, a small beacon, shining through a thick fog of darkness.
"Riders, into the gate! Five minutes till the race!"
With my stomach in knots, we were put into the gate. I didn't realize I was still in the gate until they flew open and Strange Vonner bolted. After two minutes of madness, we were in our places. I was behind Little League, fifth from the leader, Rouge. I couldn't believe it. I was in this race and Strange Vonner was running as fast as he could.
But for what?
We were going to lose and Rouge would become triumphant, that stallion didn't lose to anyone.
Strange Vonner snorted and jolted a little ahead of Little League, he could feel my negative energy and wanted me to snap out of it. I could see Strange Vonner's eyes looking back at me. Determination burned fiercely, I could feel his strength, his ears pinned back. He had a vendetta on Rouge.
"All right then, let's go SV!"

Strange Vonner surged forward past Little League, Newport and Lucas. We were just behind Ellington and Rouge. Ellington's rider and my good friend, Silas, gave me a smile. He knew Ellington had nothing left and saw the passion that burned in Strange Vonner. A short exchange and Strange Vonner bolted to Rouge. The crowd's cheering, Strange Vonner's breathing, Rouge's pounding hooves, and it all became a blur. Rouge's rider, looked back at me with a panicked look. I could feel Strange Vonner's legs lengthened, his neck stretching, his mane whipping across my face as we rode into a white light.

"Strange Vonner has pulled a grand upset!! Strange Vonner has beaten the great Rouge!"

Mr. Martinez helped me down and gave me the biggest hug.
"Good job, my boy!"
Mr. Large just stood nearby taking pictures for newspapers. Silas patted me on the back, his aging eyes smiling at me. Mr. Martinez pulled me and Strange Vonner away from the cameras.
"You both need your rest, your victory was wonderful and I couldn't be prouder."
After washing, napping and packing my things to return to the ranch, I grabbed two apples from the café and headed down to the stables. Strange Vonner was surrounded by flowers, banners and "CONGRATULATIONS" signs, peacefully munching his oats.
"Here SV, a wonderful apple for a spectacular win." Strange Vonner crunched away, happily. I took a bite myself and sat down next to him. I put my hand on his head and he looked up at me. I was looking into the eyes of the son of a champion. I was looking into the eyes of this year Kentucky Derby winner.

I was looking into the eyes of a champion.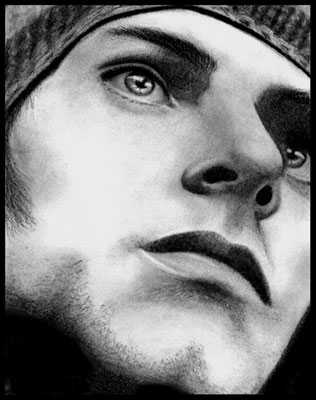 © Anna Y., St. Robert, MO