The Table
May 20, 2009
The brown, square wooden table sits at the curb, waiting for the garbage truck to pick him up, or for someone to ask the owner if they can have him. This table tells many stories.

The scratches, the drawings, and the burns all tell a story.
The scratches tell of a curious cat who wanted to know what it was like on the table. The scratches – four light ones on the edge of the table, eight four-inch scratches on the other side – show the cat's determination. Another scratch lay in the very middle; just a little accidental semi-circle made by the cat to show that she reached the spot where she wanted to be.

The drawings tell of a five-year-old girl who wanted to be an artist. The girl drew many pictures on here: drawings of angels, animals, and the girl's family. Pictures that now would probably hang in a museum or art gallery. The drawings that were drawn here started a chain of later drawings, which were sent to agents and put up in houses, museums, and art galleries.

The burns tell of a family who had a rough night. It was dark and the mother was cooking. Sadly, a fire started from the stove and the family fled outside, leaving their furniture behind. As the fire devoured the chairs, couch, and everything else, the table stood its ground, taking it all in. Once the fire department arrived the family was sad to see that everything was gone. When they stepped into the dining room they found the table sitting where it was before, with only a few burn marks on it.

The table now sits in its new home. A family of three eats their dinner, trying to make up stories of how this table got its scratches, drawings, and burn marks. But only the table knows exactly what happened.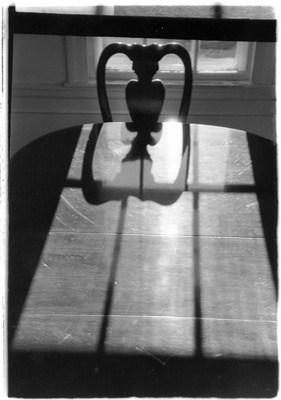 © Ben Q., Marblehead, MA