Ocean Comfort
May 15, 2009
I miss the ocean. I have only laid my eyes on it a couple times, but I feel it is apart of me now.

Standing on the shore line, facing the ocean, watching the sun set over the Atlantic. I close my eyes and I take it all in. The smell of the salty ocean breeze as is glides over my bare arms and naked legs. The wind blowing through my hair and rushing past my face. I hear the call of ocean gulls flying high above my head. Further down the sandy beach I hear the laughter of young children chasing after the tides, squealing as it run back after them. I can hear the ocean waters running up onto the shore. As the tides brush my feet I sink further into the earth. I feel the sun beating down on my skin as if saying good-bye for the night. My body tingles as the light ocean spray covers me, showering me in its beauty. I lick my lips and taste the salty water and all I could do was smile.

It is getting dark and the young children rush inside, carrying with them shells and rocks, all gifts from the ocean. I open my eyes to see a million twinkling stars shining up in the dark blue night sky. The ocean calms and reflects their beauty. Then, just the I realize how small I really am, how much more there is beyond the shores of the ocean and past the shining stars. Breathing in one last breath of ocean air, I turn back to face the town. I get this feeling of hatred and fear. What is our world becoming? I turn back to the ocean and dream I have wings. I glide over the ocean water towards the emptiness of the Atlantic air. I fly till I spot a small sandy island and stop to rest my body. There on the island I am all alone. Far away from murders and poverty. Away from sickness and death, all my worries left behind. I lay on the beach facing the ocean, watching the sun rise up above the water. I close my eyes once more, never wanting to leave.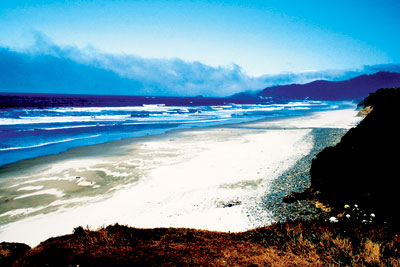 © Kristin R., Los Altos, CA