The Reflection
May 14, 2009
She sits by a shallow pond, gazing into the water at the reflection of herself. The young girl wonders for a brief moment if the image she sees reveals her true self. The picture created by the glassiness of water is fused together; her worn, tired face, admitting the weariness she lives everyday with and than her dark hair, blowing gently with the breeze of the wind. Her reflection seems magnificent, magical, even phenomenal. As though her very existence is an illusion.

Her eyes drift to the sun, its first exposure in days. Nature responds well to the appearance of light; the birds are gently singing, and the flowers have awaken. The girl closes her eyes, and listens to the breeze in the midst of nature's voice. The bluntness of the silence scares her, so she quickly opens them. She spots a patch of daisies, rushes over and interweaves their stems. She places the crown on her head, and closes her eyes once more. The wind gives an inflection to the stray leaves, who up to this point had been silent bystanders. The young girl laughs, with such a jolt that she throws her head back and her laughter is directed towards the sky in its brilliant shade of blue. The movement of the leaves creates restlessness in her legs; she decides to chase after the windblown nature. Her laughter gets louder, and suddenly the birds are singing with her.

After awhile she realizes she has danced far away from where she began. The young girl gallops back to the water and gazes at her reflection once again. More detail is added to her expression now, her cheeks a soft pink, her dark hair blown wildly around her face, and the light in her eyes now untamed. She ponders for a moment and realizes she is not an illusion to the naked eye, but a mere creation. Along with nature she is ever-changing, still growing like a bud blossoming into a flower.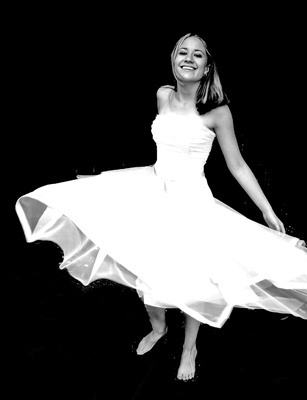 © Kara S., Walnut Creek, CA