Her Path of Life
May 11, 2009
She stares over the railing of the bridge to see a small stream down below. Sunlight refracted off the wind blown surface making it look like little tiny fireflies were dancing across the surface. She was contemplating over the idea of jumping over the edge, and falling into the beautiful scene. It would be quite the ending. It just wasn't hers.


She turns away from the choice to end her life, and walks on. The path is set before her, and she chooses to follow it. There's leafless tress on either side of her dirt path adding an ominous effect to her lonely walk. The foreboding feeling crept over her spine, but she had to keep going because she made the choice to continue with life.

She walks on tired in body and in spirit, and with each step that she takes, her body wills her to stop and face the facts.


She wasn't a quitter though. She wasn't ever going to give up, not while there was a chance to make her life worthwhile.


She stopped staring at the dirt path below her while she made her journey forward and instead looked at the future that was coming toward her. The tress may have been leafless, but the bare branches allowed the sun to bleed through. In some patches, though, there were shadows where the clouds covered the sun's rays. Those shadows marked the days to come where darkness resided.


It was scary to think that bad days were ahead, but just occasionally, when the wind blew the clouds out of the way of the sun, the illuminating light swept the shadows aside. The shining sun gave her hope that even though shadows may have been ahead, there would always be light right around the corner.


It was all a game of chance to see if the next day was going to be good or bad. She never liked working with chance. She never had a great deal of sunny days, and she wanted to know if she would ever have one of those glorious days.

To see that far into the future would take an oracle and there wasn't one near by so she had no choice by to tread on and hope that the sun would be graceful and choose to bathe her in its radiance. She could try to skip over some of the shadows, and reach the sun, but the sun always seemed to evade her. She decided that instead of skipping around she would just have to walk in a straight path and face the challenges of everyday.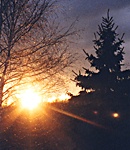 © Vhristy S., Germantown, NY