The Club
April 22, 2009
In 1000 years 1000 souls will shed and 500 heroes will awaken from the darkness 500 souls will fight for freedom, but if the souls that don't awaken from the darkness are pure let their soul rot in Hell for an eternity.
Paradise, 3009
"Hey Justin, Justin wake up there's something on the news I think you want to see this" said Kyle.
"There has been a meteor that has just landed on the Hillside Boardwalk it appears to be a diamond of some sort," said the lady on T.V.
"Hey Justin what do you think it is"? said Kyle.
"I don't know Kyle" said Justin.
"Wait something is forming in the clouds it looks like a" Boom.
"U.F.O." said Justin. The U.F.O. destroyed every thing on the board walk including the lady on T.V.
"Kyle get in the car. We're getting out of here," said Justin. Fire fell from the sky as the soon to be heroes escaped.

"A year has passed since the attacks on the Hillside Boardwalk. Now were ready to fight the terrible monsters that we'll call the Arch" said Justin. "My comrade Kyle and I have been given new nicknames for this war, I'm Shutdown and He's Limelight we have also been assigned a team and our leader's name is Ted Spark and we are meting him a place called Grizzly Base," said Justin. Justin was a natural born leader about 35, and Kyle was the same age as Justin but more emotional.

"There's Grizzly Base and it's huge" said Kyle.
"Howdy I'm Ted are you my new team". Yeah I'm Shutdown and He's Limelight" said Justin. "Well come on in and meet the rest of team Blackheart o and by the way my nickname is Ol' Bulldog" said Ted. (Ted was a country western sort of guy and the owner of Grizzly base.)
There they are there's Roxie and Saint (Roxie way a young girl in her 20's and Saint was a Bulldog.) "Nice to meet you" said Justin you'll do said Roxie. One minute later an alarm went off "here they come" said Ted. (When they were running for cover Justin noticed this shiny thing on the battle ground of the base. It was a diamond like he had never seen before) "holy smoke's where'd you get that" said Ted. "I found it on the ground" said Justin "better hide it looks valuable" said Kyle (They all glanced at the battle field some troopers fell from a helicopter and that's when they got the first sight of the terrible monsters Known as the Arch.)
(There was a solder that was a little odd he got hurt coming out of the helicopter. Then Justin knew that he would do something that he would regret. He hopped over the barrier and ran to the trooper. The entire army of Arch warriors saw him with the diamond. When the trooper was conscious and he saw the arch he and Justin ran out of there as fast as lightning. When they got back to the base and requested more back up the trooper took of his helmet and he was actually a teenager.)
"What's your nayme son" said Ted. Fred, Fred McSmith said the trooper. "Well I guess your ain't goin back to youses crew now is ya" said Ted. "I guess I probably should go back out and fight said the trooper". "What haaail no, you is stayin whit use now how's bought a nicknayme" said Ted. "For me" said the trooper. "Why not, hey what ya think of rook" "I love it" said Rook. "Awesome now Justin I gots a new machine for ya" said Ted "what for Ted" said Justin. "To enhance your battle skills" said Ted. "You mean crush to them" said Justin". "That to, I call it Fast Lane IV" said Ted. "Why did you name it that' said Justin. "Cause it sounds cool, now go out their n smash them" said Ted. (Justin got on the Fast Lane IV and crushed the Arch warriors waiting on the battlefield. When they were all destroyed the rest of the members of Blackheart came out of Grizzly Base a few helicopters are on their way. As they were getting ready Justin was holding the diamond and said "what are you"? "Chopper 9061 inbound and ready to pick up the members of team Blackheart" said the lady in the Helicopter. "There they are" said Ted. "Alright let's get out of here" said Justin.
They got a new base in a command post as team Blackheart made it out to the Hillside Boardwalk Ted stayed back to control the war. "Let's get out there" said Justin.
When team Blackheart first got out there it was a bloody warfare. People were dying all over the place and it was just a mess. "Get some cover" said Justin. It was to late a sniper fired a bullet and the Rooks head went off faster than a band aid and was spiting out blood like a garden hose. "Rook" shouted Justin as he fell to his death. Justin got so angry that he killed every Arch warrior in sight.
While at the base Ted was viewing everything to see if they were o.k. but he was attacked from the back and his only option was to blow up the base. He threw a grenade at floor him and the two attackers were dead in a heartbeat. Ted can you here me, "Ted were dying like flies out here" said Justin. Justin did not know that he didn't kill the sniper that killed Rook. The sniper ready to shoot at Justin's heart put his finger on the trigger and just when he was about to fire Saint came and ripped the snipers leg right off. In pain he smacked Saint hard in the head. Saint yelped out in pain as he fell to the ground the sniper laid dead while Saint wounded. Kyle picked up the gun and said there's something I should have done along time ago. He stabbed Justin's leg with a real sharp knife. Justin didn't say anything but "how could you Kyle". "It's just not fair that I'm second in command and you're the leader" said Kyle and ran into the woods. Now it was only Justin, Roxie and saint in a race against time. "We have to blow this diamond up to space" said Justin. "You can't do it with your leg let me take it to the mountain" said Roxie. "How did you know I was going to the mountain" said Justin. "I just guessed" said Roxie. "Alright I guess I have no choice, hurry back" said Justin. Roxie drove the Fast Lane IV to the mountain as fast as she could. When she finally got there was a space cannon. She loaded it with the diamond and shot it up in the sky all the arch troopers went to get it and the war was over. You could hear the rest of the troops cheering loudly. Justin went to the doctor the next day. Then Roxie said "I will keep Saint I know he was Ted's but he can't live on his own" said Roxie. "Alright I'll stop by the Rook's house to talk to his mom" said Justin "I guess this is good bye" said Roxie. "I'm sure we'll meet again someday" said Justin. "Bye" said Roxie. "Bye" said Justin. When Justin was well enough to go he went to the Rook's. When he told his mom the bad news her eyes were filled up with tears and Justin said "I'm sorry" and left. That night Justin went to the club and Kyle was sitting next to the counter and said "can we please be friends". "Yeah I guess" said Justin and they went back to having their normal lives.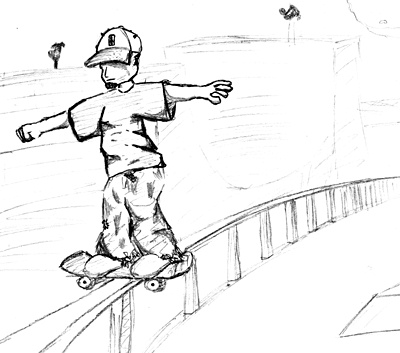 © Paul H., Phoenix, AZ