Where There's a Will...
May 1, 2009
The sun was setting, streaking the sky with red and gold.
"Bye, Will!"

"Yeah, see you later!"
Will sadly watched his friends stand up and begin heading for home. He had always envied his classmates; they had a warm house and loving parents to come home to after a long day at school. Dejectedly, Will got up and stretched, looking up at the grey, ominous sky. "Looks like winter," he thought, and began his long trek home. He allowed his mind to wander, and thoughts of a different life started to fill his head: thoughts of caring adults, of three meals a day, and above all thoughts of love. Will shook his head to clear his mind; daydreaming would not change anything.
The sky began to darken, and Will hurriedly quickened his pace. Finally, at the end of the cul-de-sac, he made out the faint outline of the shack he lived in. Old and decrepit, it was the only home Will had known his entire life. The door creaked as he pushed it open, shedding faint light on a dusty hallway encased in shadow. Fading quickly, the setting sun provided the only light in the entire dwelling. Will felt his way along, slowly making his way to his tiny bedroom. Upon finding the small, filthy mattress that was his bed, Will laid down and stared at the cardboard ceiling above his head. He closed his eyes and allowed the darkness to take over as he lay there, listening to silence.

Suddenly, loud noises, poorly muffled by the paper-thin walls, broke the quiet of the evening. Will jumped up, feeling as though his heart would soon burst out of his heaving chest. Swiftly reaching under the mattress, he pulled out a long, rusty blade, given to him by his constantly inebriated father. His hands shook uncontrollably as he slowly crept down to the only other room. A loud creak met his ears, and Will turned to find his father, standing over the mangled body of a young woman clutching a knife that was dripping blood. As his father began to wrap the corpse in a black sheet, Will began to back away, causing the floor to squeak. His father whipped around, his enormous shadow filling the doorframe as he approached Will, still brandishing the knife. Panicking, Will fled into the night. His father pursued, stabbing at Will as the boy tore by. Tears flew from his eyes as he ran, staining the cracked concrete wherever the droplets landed. Never slowing his frantic pace, Will was determined to run until his weak legs gave out beneath him. He ran, trying to outrun the pain of the truth, hoping to escape from reality…

He drew nearer and nearer to the dark line of trees that surrounded his town, blindly attempting to distance himself from the horror he had just witnessed. Sprinting headlong into the dense forest of his childhood, he ignored the branches whipping his bare arms and legs as he hurtled onward. Will did not know where he was going; in fact, the only thing he was certain of was his desire to flee that sinister place he had once called home. There was a dark clearing, deep in the impenetrable gloom of the woods, and it was here that he finally sank to his knees and allowed the weariness to overcome him. As twilight faded into night, Will remained motionless, staring at the ground beneath him. The only sound to be heard was the muffled sobs that escaped the boy, but those soon ceased, and the forest was quiet once more. Snow began to fall, but he took no notice; his focus was on the blood seeping through his jacket over his heart. His breathing slowed, and cold's firm hand grasped his body. He lay down, gazing for the last time upon the night sky. Shivering and bleeding out upon the ground, Will smiled at the stars and the falling snow. "Looks like winter," he thought. "Looks like winter."


And then all was white.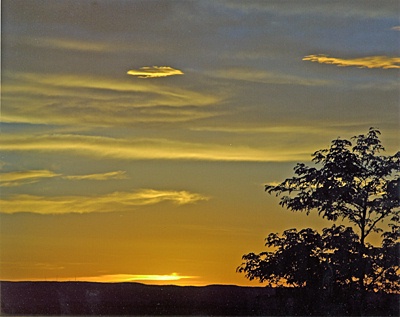 © Elizabeth B., Wichita Falls, TX