Before I Sleep
April 19, 2009
I hear you running down the stairs, the frantic pounding of your feet as you try to catch me. I have one hand on the door, the other gripped around a worn leather suitcase. Damn it. I was on the threshold of life, and once again you've managed to hold me back.

"Please! Just listen to me! You don't have to go," you yell as you run towards me. I can't take this anymore, I really can't. I look at my hand on the door knob, the one thing separating me from happiness. I consider turning the knob, but I can't leave you like this. I know you, and I know you will spend forever and a day wondering what you did and if there was anything you could have done to stop it. Of course, there isn't anything that you have done, nor is there anything that you could do, but you don't realize that. I drop the suitcase, take my hand off the knob, and turn to face you.

God, you're pathetic. The tears are falling quite quickly down your red face; your hair is messed up ( no doubt from pulling at it as you agonize over the thought of losing me); your clothes don't match and you have only one sock on; there is a set of keys hanging from the pocket of your jeans. Of course you have your keys. You're always so prepared for anything, so organized. I really have to get away.

"We had it so good baby, so good. What happened, baby? Tell me."

"I happened," I say, and your tears stop. You look like you could kill me. If this scene was a cartoon, there would definitely be steam coming from your ears right now. But alas, this is real life, and the only thing that's steaming is the pot of water I left on the stove for you to make yourself some tea. See? I'm not completely heartless.

"What on earth is that supposed to mean?" you yell at me.

"There's no need to yell. I'm standing right in front of you," I tell you, my voice completely flat. Again, you look like you could kill me.

"There's no need to yell? What do you mean there's no need to yell? Here you are with a packed suitcase in your hand, ready to walk right out that door, and you don't even tell me why! Last night I go to sleep with you by my side, and this morning I wake up and you're running away. Please tell me what it is, babe. What do you want?"

Well, I don't know exactly what I want, but I do know that this, this thing that we have, isn't it. I don't want to have to call you every few hours to tell you where I am. I don't want you to call me every few hours to tell me where you are. I don't want to live with you and your obsession with organization (why can't you just let things be?). I don't want to have to compromise who I am, just so you'll be happy. I don't want to be tied down; I don't want to depend on you. I don't want this life.

I look up at you, and I swear my heart breaks. I wish I could tell you everything, but I can't. Something great is going to happen to me, I know it, and you can't be a part of it. I'm really sorry.

"What do I want?" I say, my voice rising and heart swelling with joy. My answer is going to be quite blunt, and you're not going to like it, but it's the only answer I have. "I want to live."

Your hands drop from my shoulders and you take a step back. I transfer my gaze downwards, from your face to my feet, and I smile. I could go so many places with these feet, these wonderful feet! Why not start now?

I'm sorry to leave you, of course, but it's for the better. You'll be sad for a little while, but you'll move on. Maybe you'll even find someone who will stay with you forever. Whatever you do, you will be happy, I promise.

My smile grows even wider as I reach down for my suitcase. I'm going to be happy too, and I'm going to do great things. Right now, though, I've got to get away. I turn around, suitcase in hand, and I let those wonderful feet walk me right out the door.

I've got a while to go before I stop.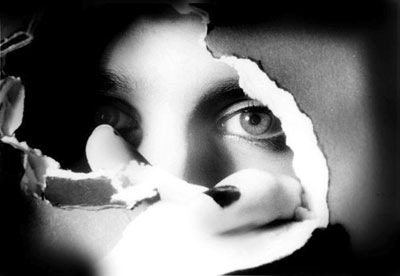 © Tabatha B., Peoria, IL