Lonely Man
MAG
Middle age, middle-class guy.

Unfashionable bar, uncomfortable bar stool.

That's me, sitting there. The guy with thick brown hair, kind of handsome in the right light. Yeah, that one there.

You don't want to be here, believe me. Yeah, it used to be trendy and hip. Not anymore. Over-hype killed the place, I guess. Sure it was fun and chic the first couple of days. But people move on. The world moves on.

You can stay, if just for a minute. It's really not that bad if you aren't expecting much. Everything's better if you just lower your expectations.

Like this friend I used to have. Well, not really a friend. Just a person I used to know. Real pain, actually. Really rich though, a whiz with numbers. Never cared too much for all that algebra stuff myself, you know? Anyways, this friend of mine he was always expecting everything to turn out perfect, like in his equations. He wanted everything very cut'n' dry. Ended up with no wife, no friends, real lonely fella. Piece of work though, piece of work.

Come on, you haven't even finished that drink. Stay a bit more. You're real jumpy like, no? I used to know this fella, worked as a pool hustler. He was always jumping around, twitching and stuff, you know? Kinda weird, I thought. Last time I heard of him, he was in the hospital. Seems someone beat him over the head with a pool club. Real jumpy like I told you.

Don't worry about the dust, this place is safe. No, you wouldn't wanna eat here, the food's filthy. But a drink or two is fine. You won't get sick or nuthin'. Say, you remind me of my mailman. He was always thinkin' he was sick. Phony symptoms and all. I used to think he just wanted to skip work. Then one day he up and overdoses on Tylenol. On Tylenol, right? Weird stuff, I tell ya. Weird stuff.

It's okay with me if you stay. Just stay for a couple of minutes - it's not the end of the world. What else do you have to do on a Thursday night, visit your grandmother?

Oh, she's sick? Well, I'm sorry and all. You know, that grandma crack is the first thing that came out. I really didn't ... okay, yeah, another time then.

Another drink then.

Little guy, lonely man. Empty place, early in the night.

Yep, that would be me. It's not so bad. Stop by sometime, stay some. We'll talk.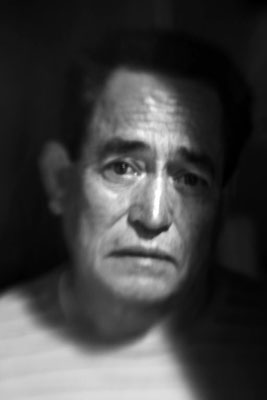 © Adam P., Goleta, CA