The First
February 14, 2018
 Today is my day, and no one will ruin it. Today is cheer tryouts! I have been waiting forever to tryout for high school cheer. I have always wanted to be a cheerleader for the Dragons, but I was always scared to tryout for cheer in middle school. But all of that is about to change because in at a new school so that means a new start.
I have made only two friends so far, and they are trying out for cheer also. Their names are Pattie Lawyer and Kacey McNew. They are some of the most popular girls at our school, and they are so nice to everyone, even the weird ones. I also have this one other friend, but she doesn't like Pattie and Kacey because they're to "stuck up." Her name is Olive Hastings, and she is classified as an emo person, but I just don't see it. To me she's normal and just likes to wear dark clothes.
Now we are into the sports at my school. They are really competitive at everysport we have here such as golf, tennis, track, swimming, basketball, volleyball, baseball, and powerlifting. I only do two of these sports, and that is swimming and tennis. I normally do pretty good at swimming because I am in individual events, so I get my own ribbon that I got by myself.
So everyday at lunch Olive because Pattie's and Kacey's table is all full. I'm too nervous to eat today is tryouts, and I don't know if I'm going to make the team or not. Olive reassures me that I'm going to make it because I have been practicing so much over the past few weeks.
Tryouts are immediately after school at 4:00 p.m. in the gym. So now it's time to dress out into our plain white shirts, black sports bra, white short socks with white shoes, and black spanks. It's the most nerve racking feeling when you start stretching before the judges come out. We go into the girls locker room, and wait until it's time for our group, of four to five, to go out before the judges, and perform before individual.  When they call my "18!," my heart starts pounding to the point where i can hear it in my head. So I did all the cheers, and my jumps, then spirited off the court.
Waiting in the after room is so sad because everyone is crying, and there is nothing that we can do in there except sleep and/or eat. We were in for what seemed to be an eternity was actually only 1 hour. We won't know the results until tonight at about 8 o'clock. It was so stressful waiting for the results so I decided to go over to Olive's house to waste the time. She was more nervous then me to get my results back.
The clock hit 8 o'clock and we still didn't have the results yet. I was getting very anxious, and I started thinking what if they only sent the message to the people that made the team. Time soon reach 8:30 and the result came. I was so scared to open the text to see if i made the team or not. The message said "Congratulations to the new cheer team of 2009-2010! The following numbers that made it are 1,3,4,5,8,9,11,12,13,16,18,and 20! Can't wait to see what this year brings up." I was full of excitement and jumping up and down with joy. I immediately texted my mom and told her the exciting news that I received.
The day I went back to school everyone was so happy for me, and was appreciated that.  All of the girls that didn't make were getting made fun of by all of the boy jocks.The principal told the boys to go t his office now because bullying is now illegal. The boy came out cry because they were just to that they couldn't do the sports they were doing for the next couple of weeks, and they had to apologize. They weren't to happy with the last one.
Today is fitting for all of the clothes that we will need for the cheer year such as bra, shoes, raincoats, headbands, top shell, skirt, bloomers, practice tank top, practice shorts, and a game day t-shirt. In my opinion, the football team is pretty good, and I am happy to be a cheerleader for them.
Today is our very first football game, and I'm super excited because I have never cheered before.  No matter what the outcome is, the cheerleaders have to stay positive because they are the pride of our school. If we do lose it isn't by much, but our boys still walk off the field with a sad look on there face. They will soon be happy again because we normally go against easy people.
It's 2:15 and the football players and cheerleaders  get called out to leave for the game all the way in Yorkston, which is 2 hours and 45 minutes away. The cheerleaders stop to get pizza at Pizza Stop. The boys get a little snack at Chicken Run. Then the football players head to warm up on the opposing teams field so that they can get used to it real quick. Then us cheerleaders go to met the other cheerleaders in their locker room to have some time to warm up, and get to know them so we aren't completely strangers.
The game is about to start so we get ready and set up all of our megaphones and pom poms. The game has started and we already have a touchdown so we did a fun little cheer that went like this, "t-o-u-c-h-d-o-w-n, touchdown mighty tigers, go fight win." It's halftime and and we are winning with 36 points and the other team only has 7. The band of the other team sets up for their performance. After halftime we go back down to the field, ad we get to cheer so more. Us cheerleaders don't get any break from cheering except halftime. The game is finally over, and of course we won with a score of 56 to 14.
Of course that game busted our self-esteem, and now we are ready for the football team this year. Even though cheer so late made us all tired, and kinda cranky, we were still nice to each other no matter what. Cheering at my first football was so amazing and that I got to spend it with some get people. I can't wait to see what the rest of the year might bring.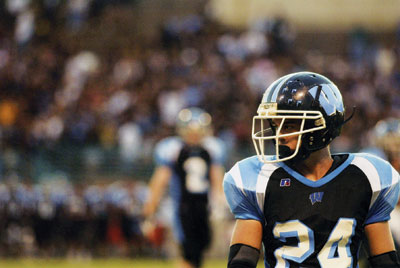 © Graham S., Bethesda, MD