Flame in a Photograph
November 15, 2017
Jim Daily was a photographer working for the Nature Times. He'd been sent out on a job to get a photo of Bellmont National Forest that would fit an article about climate change, written by his coworker Billy Sanderson. He trudged through the forest and let out a groan as another squirrel passed by. The only thing he'd seen thus far had been animals and trees. Very unusual for a forest, right?
He kept going, snapping a few pictures here and there. None of it was really article-worthy, though. He stopped and looked through the photos he'd had, thinking about pairing them with the article. He let out a heavy sigh and shook his head. He wondered why this time seemed so off.  Usually Jim was able to get the right picture in a matter of minutes.
He passed by some trees, making sure to leave a trail of sticky notes so he didn't get lost. Jim wasn't really a big supporter of climate change research. Jim did, however, know that, if he wanted to keep his job, he'd have to get a good photo for the article. He snapped pictures of anything that seemed to be a good fit. That was when Jim stumbled upon it.
A skunk. His eyes went wide. He attempted to get away but he wasn't fast enough. Jim was covered in skunk stink. He made sure to clean off his camera. Jim was extremely glad none of his equipment had been ruined. In that moment, Jim caught a whiff of something.
It smelled like a bonfire. Maybe he was nearing the camping grounds. He walked further. Jim thought to himself, I guess that I'll just come back for a shot tomorrow. When he neared the smell, however, he saw something entirely different than what he previously believed.
When he reached the source of the smell, he could barely breathe. The smell had come from a raging fire. He heard a helicopter overhead. The copilot used a megaphone to speak to Jim, who was still gazing at the inferno. He told Jim to leave or he'd die. Jim, however could only think of one thing.
He looked to the pilot then again to the fire. This was the decision that very literally determined whether he lived or died. For Jim, time slowed down. Everything passed at a speed slower than a snail. He put the viewfinder to his eye. Jim snapped the picture. Before he could check to see if it was good, he was yanked into the back of the helicopter, being lectured by the pilots. When Jim checked the photo, it was all a massive red blur.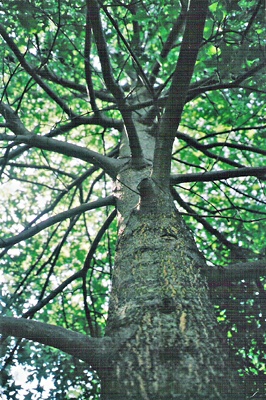 © Bhuvaneswari R., Sleepy Hollow, NY