A Lone Wolf
August 22, 2017
     A vegetarian wolf named Cabbage was raised up with a herd of rabbits. He lived peacefully with them until one year a meteor hit the village and exploded, destroying most of the farmland and drying up half of a lake-an important water source. Though always being isolated by the rabbits, Cabbage saw himself a member of the family and was determined to save them. He started a journey for the food bank in the East with his only friend Fuzzy, a female rabbit whom he grew up with.
     As they walked, Cabbage asked Fuzzy about his identity, a question he had kept for years. Fuzzy explained that a long time ago there was a war between the wolves and the rabbits. After they defeated wolves, the rabbits found the baby Cabbage nearby his dead parents and took Cabbage back home. She then hugged Cabbage and told him that she would always be by his side and support him. 
     Stepping out of the valley, they found a desperately starving and bony tiger called Orange. Kindly, Cabbage asked him to join them. While pretending he would not be harmful to Fuzzy, he secretly encouraged Cabbage to eat Fuzzy with him together. Cabbage refused, yet he was unable to leaved the weak Orange alone.
     Later, the three met the lasts of wolves in the world. Weak and greedy, they recognized Cabbage as their lost child and forced him to fight against the wolves' rival--crows, or the wolves would not let Fuzzy go. During the course of fight, Cabbage's nature for blood as a carnivore came back and made him question about his identity. However, at the same time of the fight, Orange secretly made a deal with the wolves and together they tore Fuzzy apart and ate her. Finding out the truth, Cabbage killed Orange and all the wolves in fury; remaining as the last wolf, he continued his journey in sadness.
     When he finally arrived at the food bank and bet for food, the selfish and filthy guardians monkeys had no intention of helping him, humiliating him for his bloody nature as a carnivore. Finally accepting his identity as a wolf in pain, Cabbage slaughtered all the monkeys and ate their flesh with tears. He cried as he recalled Fuzzy and her words, blaming himself for unable to use no other ways but killing to keep his promise of securing food.
     Though at the end Cabbage returned to the rabbit valley with food and seeds taken from the monkeys, Fuzzy's death and Cabbage's change reminded rabbits their memory of fear toward wolves. From time to time, Cabbage struggled between his nature and his promise with Fuzzy. Eventually, Cabbage was able to restrain his desire for meat and maintained in control like the old days. Recalling his memory with Fuzzy, he realized that it was not about who he was born as, but who he would choose to be.
     Yet, the rabbit community unanimously drove Cabbage away. Witnessed by the rabbits, Cabbage walked out of the valley, where him and Fuzzy's journey first began. He took another peek at the village and disappeared in the first ray of sunlight, wondering for the next place where he could call home, if there would be any.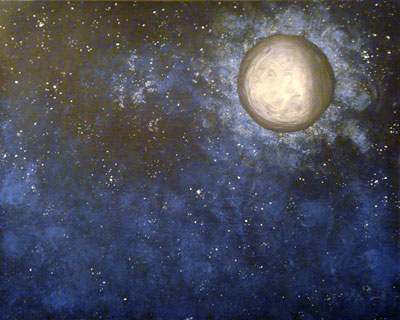 © Allison H., Vancouver, WA