Paradise
April 12, 2017
One of my many life goals is to travel the world. I have been dreaming of this ever since I traveled to the Bahamas to visit the Atlantis resort. I fell in love with sight seeing and learning new things about different cultures. My eagerness to travel grew after my family took a two-week RV trip out West, hitting more than ten states. I have always imagined myself backpacking through Europe, and visiting the annual Oktoberfest festival in Germany. But those are only two of my dream destinations, and ranked at number three is Hawaii. Just imagine standing at a louo, watching a pig roast while wearing a lay full of fresh flowers. It sounds magical! Well, I have always been one of those people that share their dreams with their parents and family, so no surprise that I told them about Hawaii. My parents have always told me and reinforced the answer of "NO" when I ask if we can visit Hawaii, due to the price in flights. But one day we were sitting at our house when my parents told me they had an announcement to make to the family. I was intrigued and nervous. They talked to us and told us that my dream would be coming true- we are going to Hawaii! So just as anyone would, I started dreaming and envisioning what Hawaii would look like.
As I think deeply into my vacation, I envision Hawaii as a clean and beautiful place. As we hike up the side of the volcano I imagine a beautiful sight with a slight mist covering the other volcanoes. I can only dream of the wonderful aroma of the flowers and fresh fruit that must be covering the island. As we awaken in the morning by the sound of the rolling waves hitting the beach I recognize how lucky I am to be in the Aloha State. As I slowly trudge towards the kitchen in our beach house I decide to consume the fresh kiwi sitting on the counter. As I peel the kiwi, I make my way outside to watch the sun rise while listening to the tropical birds chirping their morning songs. As I wait for the rest of my family to awaken I find myself dreaming about the rest of the day in the Aloha state. Today we will be surfing the Pacific ocean and snorkeling the unknown waters of the great big blue expanse lying in front of me. As I lather sun lotion on my pasty body I start to take in the beautiful sight that is known as Hawaii. As my family awakens inside the house, I am pulled from my dreaming and taken back to reality.
I am sitting around my family inside my house. I was dreaming for what felt like days but only amounted to a few seconds of reality. I came back to my family yelling and talking about how excited they were to explore the new land. However, they did not know that I already visited the Aloha state during my day dreams.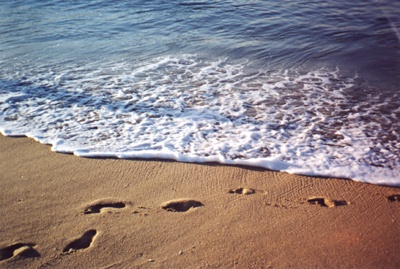 © Daniel M., Phoenix, AZ