Ninja Cat: Rise of the Roaches
October 24, 2016
 It has been 3 weeks since the disappearance of The Red Dot. Mitzi searched desperately but there was no sign of him. Soon, crime started to rise in the house, and Mitzi had to call off the search for The Red Dot. She needed to act fast, because everyone around her was in danger.
   As she investigated in the uprising crimes she soon concluded that it was a dreadful enemy to the humans. After a long day of investigation, she took a nap. She woke up hearing a scream from one of her masters. She quickly rushed to the scene only to find the most hated group by her masters, Mr. Roach! She quickly spotted Mr. Roach and Mitzi ran straight toward him. When she was 20 cat paws away from him she said," I want you to get out of my master's house right now or I will kill you!" Mr. Roach stood there staring at Mitzi until he finally said," I'm not leaving this house and there is nothing you can do to get rid off me!" Mitzi growled moving into attack position, Mr. Roach was so terrified he couldn't move. Finally Mitzi pounced crushing Mr. Roach with a loud SQUISH! Mr. Roach said," You…. won't….see….the…..last….of….us…." 
    With Mr. Roach dead Mitzi finally put crime to an end…… or so she thought.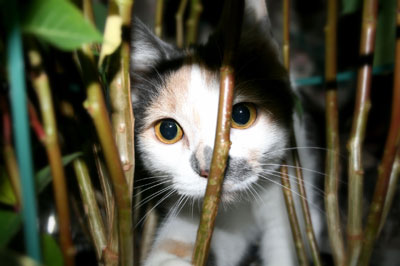 © Leah B., Kokomo, IN