My Line of Work
April 4, 2016
I listen to rain pound on the roof of the car. The pitter patter of the rain is disrupted only occasionally by the boom of thunder or the quick flash of magnificent lightning. Crouching between Monarch and Paisley, (real names aren't important in our line of work) I look around the parking lot to see if our suspect has arrived.
"There's Tiger," Monarch whispers, pointing to the back door of the jewelry shop. As soon as he enters, we sprint to the back door and I catch it right before it closes . Paisley has already disabled the alarms, making Tiger's job easier.
Paisley enters and crawls to the front door to block it and Monarch does the same to the back door. I go to behind the counter and we all watch as he opens his sack and stuffs it with the jewelry as the storm outside worsens. As he finishes up, both girls watch me.
"Wait, wait for him to make his way towards Monarch," I whisper into the ear com. About 2 minutes later, he starts toward the back door, I give the signal and all hell breaks loose.
I launch myself at Tiger and buckle his knee so he falls to the marble ground as Monarch rushes in and kicks the bag of goods across the room. I put my foot on his back and get my gun out of its holster. Paisley does the same.
"I surrender! Take me in!" Tiger yells. When nobody moves, he looks around at each of us clearly confused. "Why ar…"
BANG. The shot rings through the air as Paisley grabs the bag of goods and we run through the rain leaving Tiger a little less, fierce.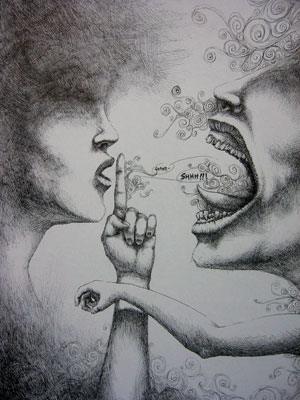 © Andrew M., Apple Valley, MN