Citywide
MAG
The dogs started disappearing first. No one argues about that. Whatever else you think happened, it was definitely the dogs first. And that took a month or two, so no one really noticed. I was pretty sure it was just the kids having some fun. We wondered where the dogs all went, you know, but they were gone, that's all. Susie, she said it was more likely the homeless people who were doing it, but most of us thought it was the kids. And anyway, we only thought it was in the neighborhood.

John set up a neighborhood committee to try to figure it out. But we all pretty much agreed that it was worthless, so John quietly returned to his house, you know, to avoid criticism. We agreed it was for the best if we just let him off lightly. He'd had it hard anyway, with his wife disappearing a couple months before.

Then it seemed like it was over, but signs went up all over town about the dogs. Very depressing. We hated those signs a lot more than we hated the missing dogs because, you know, when you drive to work, it just isn't right to have to look at that stuff. And it told us that we weren't the only neighborhood where it had happened. Everyone wants a tragedy to be their own. I mean, it just doesn't mean as much when everyone's has it, right? But I think John took it pretty well. He didn't flaunt it or anything, but you could tell that he knew he was right. Now we all were looking to the committee for help.

So we were all happy when the signs came down. Of course, everyone tried to put them back up to find their dog but they would be gone by the next day. Suzie told me it had to be vagrants, it just couldn't be kids. I said maybe the kids were just covering their tracks. So we agreed to disagree, although that wasn't entirely satisfying. Anyway, she still held herself pretty high for a woman who was insecure. She always told me how insecure she was. I just let it go. I mean, did it really matter whether it was the kids or the bums? Stuff like that seems so trivial when it's happening. But Suzie, she told me that it was important to know who it was. More important than what happened. Everyone else in the neighborhood, maybe even the city, agreed, so I just told her she was right and left it at that.

After a while, it dawned on all of us that the signs were disappearing. I mean, we knew before that they were disappearing, but it struck us as odd now. Who steals signs? So the police task force formed a committee to look into it.

The committee was pretty lazy. They mostly went on fact-finding missions, which was their excuse to go out and hunt and fish without a license. Not even in season. Still, they were the committee, so we had to respect that. But they went too far when they went hunting and didn't come back. We voted to disband the committee, and I guess it taught them a lesson. They've been gone a while.

That didn't really solve the problem, and we all knew it, though we kind of swept it under the rug. But a couple weeks after the vote, our rooms disappeared. I guess it was really the walls. But we woke up and bam, no walls. You could see every room in the house.We were all kind of afraid. Susanna ventured that maybe it was the terrorists, and most of us agreed. Didn't want to sound unpatriotic.

So we started to hunt down the terrorists and vagrants. I said that maybe we should get the kids, too, but they all pretty much agreed that it wasn't the kids. There was no basis, but it kind of made sense, I think. So pretty soon, we had all the vagrants and the terrorists locked up. Things stopped for a while, and Suzanne assured me that she was right. I had to agree.

The philosophers weren't happy, of course. They never seem to be. They told us that we were searching for arbitrary escape, that what we were doing was pointless. They said that we were trying to distance ourselves from everything. We were trying to forget it, they also said. We all pretty much ignored them. They weren't the ones without the walls, without their dogs. Well, I guess that happened to them too, but they could get new walls, new dogs, not like all of us. Still, I kind of had to agree with them. I had forgotten a lot. And things went on like that a while.

But the next month, the prisoners disappeared. The news called it a prison-break and broadcast pictures of the empty cells. It was terrifying but we knew it wasn't healthy to watch the 24-hour news reports so we all went to work. Sure, we talked about it some, but that always just became sad. I felt very lonely when we stopped talking. But Shannon told me to keep going to work in a good mood, and I guess I did.

But now none of us is too sure about what happened anymore. I don't think it's fair to say that the whole thing could have been avoided but others say that it all could have been. Then there are others who say that it isn't the terrorists, radicals, or any fringe group. They say it's those right in the middle of us, the normal ones. They speak so much, all of them, so fast, I can barely remember what's been said. I forget a lot these days. Most of what I remember, I read in the papers.

But it's okay. Because I've called the contractors, and they've told me that they can fix the house. They asked for my name, but I didn't give it to them. But I still know it. My name. I still know it. We bought a new dog, Sharon and I.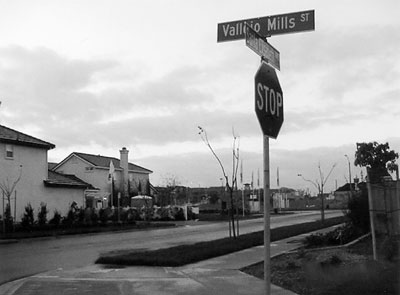 © Anthony Q., Chula Vista, CA