The Life Of An Assassin- The Return Of A Foe
June 11, 2013
In the city of New York, seven years later a small Chinese business man ran across Seventh Street, as he turned into a small café, he looked back as if to check if he was followed. The expression on the man's face was pure horror and nervous as if he was hiding something.
Across the street from him, in what seemed to be a beaten up Cadillac CTS 3.6, in the driver seat was a man wearing a black leather overcoat, an old New York Knicks shirt and a Boston Red Socks cap and dark sunglasses. His expression was totally blank as he seemed to be observing the Chinese businessman.
Inside the restaurant the Chinese man took a seat at a small table away from the window.
As the Cadillac pulled away the sound of sirens were heard for miles, as three squad cars pulled up by the small Chinese restaurant. The detectives on the scene began to question the witnesses, especially the three remaining Chinese men.
Whilst all of this had been going on, about a mile away, the man in the Cadillac pulled out a small handheld walkie-talkie. The only words he said into the radio were;
"It's done. Mission complete. One tango down." He said in a deep tone.
Later that night, the three men from the Chinese restaurant arrived at a warehouse in the middle of Manhattan, in a convoy of armoured cars. As they stepped out of the cars, they were followed by a team of ten men in black suits; all armed with mini-Uzis and Makarov pistols.
"Two men by the door, two by the cars, four by the gate, and the last two follow us" said the man in the white suit; he said this with a croaky harsh voice.
"When are those bloody representatives arriving?" the second man moaned in an impatient tone.
"Around ten o'clock sir" replied the third man in a soft submissive tone; he was wearing a maroon suit.
Around twelve minutes later a convoy of two land-rovers pulled up into the driveway of the warehouse. A group of eight men in total jumped out of the vehicles; all but one dressed casually in checker tops and jeans; armed with AK-47 rifles. The other man; dressed in a grey tailored suit with his top three buttons undone; clearly the man in charge of the group spoke.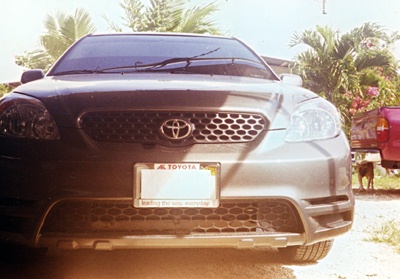 © Warlito B., Tamuning, Guam