Foxfire Monologue
December 7, 2012
We are FOXFIRE! Not just me, but Legs and Goldie, Violet and Rita, others too. Since the night Legs crawled through my bedroom window because she had no other place to go. We've been FOXFIRE, and she is our leader.
We are sisters, bonded by our blood and tattoos, our symbols. Letting others join so FOXFIRE can grow! We bought a house, and paid for it by our devilish ways. Legs picked it out and we have fixed it up. I guess you could call us a girl gang, and it's kind of true. The things we've done, together, you wouldn't believe…
My uncle was black and blue after we got to him, his pervertish ways had been asking for it. He should have just handed over the typewriter, without asking me for more… FOXFIRE revenge!
The house Legs caught on fire because she couldn't stand the cruel things these men were doing to a disabled girl. They deserved it, like you wouldn't believe. FOXFIRE burns and burns!
The time we scuffled with another gang at school, and Legs brought out her switchblade. We ran and stole Acey Holman's buick. Racing out of town getting chased by a cop, sliding and flipping off the road. Legs got two years in prison. FOXFIRE never says sorry!
She got out and we had a party! Drinking til we dropped, and doped out of our minds!
Corrupting Mr. Buttinger's car with profane words, embarrassing him out of town. It was his fault though, he should keep his eyes to himself.
When we needed money to pay our finances, we came accustomed to 'hooking'. We looked for promising men of money and waited until just the right time to bag them and book it.
When Legs decided to go for the Final Solution, as she called it, I thought she took it too far. She wanted to go after a millionaire in town, take all he was worth. I couldn't take the vulgarity of it anymore; they exiled me.
I followed them up on it though. They met him, Mr. Salinger and asked him for jobs. The night he showed them where they'd be working was the night they took him captive. Trying to make his wife pay a million dollars ransom had not been working, and a new initiative in the group accidentally shot a gun off and hit Mr. Salinger. That was when FOXFIRE ended.
They all scattered off in different directions after they called an ambulance. Legs drove several of my old best friends out of town. Going 80 with a cop chasing them did not go well when they got to an old bridge, she drove off the side. No one's seen her since then, but I still wonder if she's out there. Legs Sadovsky, who never looked back.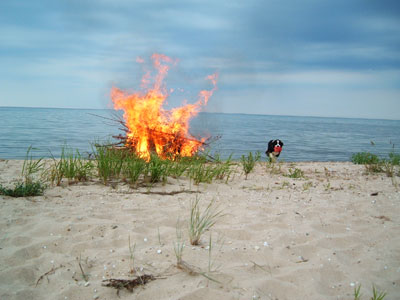 © Hilary L., Rogers City, MI