The Fair
November 1, 2012
I saw the craziest thing at the fair; a little girl was screaming and hollering. It was a typical little girl; she had a ponytail and was wearing glasses and throwing a temper tantrum. People were gathering around now, watching at how furiously this little girl was screaming. I asked the little girl what was wrong, and she screamed, "I want a monkey!" The little girl was going bananas for this monkey, she really wanted that fluffy monkey that was twice her size, and she kept on screaming. She must have spent hours trying to throw the ring around the bottle cap to win the monkey. She spent all her money, and it must have been a lot of money, because she had a big brown paper bag and it was empty.
The little girl noticed that her bag was empty and began to walk slowly away. Looking at the monkey, her eyes looked watery; she knew that the monkey wasn't going to be hers. I decided to follow her to make sure she would be ok. She walked through the rest of the fair games; and noticed that everyone was having a good time, enjoying the games and winning prizes. That made her furious and sad.
She began to run; she came across a huge wallet on the ground. She immediately started looking through the wallet, and was surprised to see that the wallet was filled with money. She got a huge smile on her face and started running off.
I shouted, "Wait! You need to return that to its rightful owner little girl!" She didn't listen, all she could think about was getting that monkey, she knew it wasn't the right thing to do, but she was destined to get that monkey.
I followed her to make sure she would return the wallet or report it lost. She ran all the way to the game where the monkey prize was, she became more excited as she got closer and closer to the station. She noticed that I was behind her and decided to make a run for it to try to lose me, but as she was getting ready to run she tripped over a rock and fell to the ground.
The wallet went flying. She tried to get up quick so she could get the wallet, but before she could, an old guy that stunk like dirt and had a beard picked up the wallet and said, "My wallet! Where did you find it?
"It was on the ground," responded the little girl in a weak voice.
"I've been looking for it this whole time," said the guy.
"I was going to returned it," lied the little girl.
I couldn't believe what I heard! I was going to say something, but before I could the guy said.
"Thank you so much for returning it," and walked her to the game where the monkey was at and won it for her. I was surprised to see that the little girl ended up getting her monkey after all.
I would have never expected that to happen. The little girl looked at me with an evil smile on her face and said "Loser!" and stucks out her tongue and wandered off with her new fluffy monkey.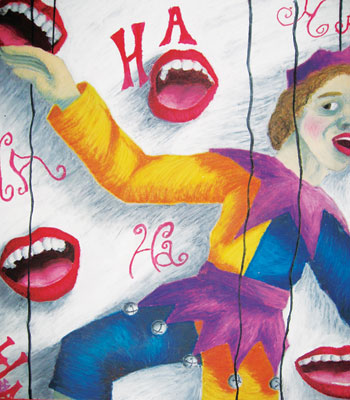 © Carollynn G., Hawthorne, NY