A Shadow Beneath a Cloak
September 9, 2012
As the sun sets, and snow begins to fall in London, a girl comes out of the shadows. She herself is a shadow. Only appearing at night and following those who are not expecting. Step by step she follows, until that single moment when she strikes. A beautiful cobra waiting for prey, and at the precise moment comes out of hiding to accomplish its mission. Yet this girl does not kill, she is just a petty thief trying to survive. Though a young girl. Who could say what her story is we may never know, only that she awaits.


This night was particularly intriguing because Ms. Harrison was taking a walk. This was not unusual but for a girl as incompetent and lacking as this one, or so it seemed, to go after on of London's wealthiest woman was just pure insanity. Or genius. After all don't they go hand in hand? The girl in the black cloak followed in the shadows. But at last she had found her moment, her way out of what could be this dreadful life. A simple cane that the old woman had in her hands, incrusted in jewels and gold.


At that time she jumped form the shadows and grabbed the cane. As the woman fought back she brushed the cloak in her face and once again the girl had disappeared into the shadows. As I have already stated I can't tell you the history of the girl, but I can finish the story. This girl sold the cane and made a small fortune. She never had to wander the streets again, and though she is no longer a thief she stays at home. Hiding within the shadows. Glimpsing at you through her cloak.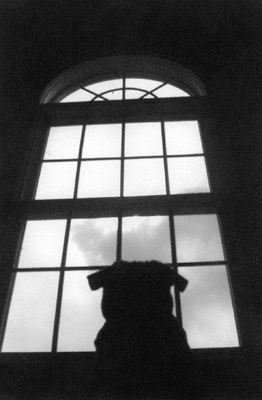 © Joe F., Milford, CT