The Edge
May 20, 2012
I see a shadow
bounce off behind me
Change the time now
a meadow all full of color
and wonder
then came thunder and lightning and
the whole field burned down
I guess I'm trying to say now
I had a good day
I threw my pen on a paper
then had the nerve to call it a song
when it barely rhymes
who cares
It's still art
I delicately painted these words on the lines
with intricate style and an un-ordinary mind
but don't mind me
I'm just here for the ride
Just go ahead
I'll let the men talk now

He wonders around, searching for answers; "Where is the edge?" and he gets no answer

King LaParte was a worried man, a questioning man, and an ignorant man; for he could not figure out the whereabouts of the edge

The Young King was jubilant in his line of work, for he was a great consumer of imported goods

In any way, he was happy in his predestined royalty, however there were quite a few unknown questions that needed some explaining

"Where is the edge?" was the question he held captive in his brain, and the skull would not allow it to seep out

The question bothers him all day; bathing, "Where is the edge," eating, "Where in h*ll is the edge!"

So the great King started a massive migration to the supposed edge

John LaParte gathered all of his cooks, doctors, artists and artisans, bakers, architects, engineers, builders, designers, guards, and house slaves to aboard the LeRoi, a ship named after his father

Now this ship was a grand one, a huge "present to the eyes", and a mystical ship as well; mystical because of the odd misty ghoulish feel of it

Otherwise the ship mas magnificently sized and decorated, with all sorts of red and green flags, designed with amazingly strained oak and canon holes in case they need be used

As everyone boarded the ship, a slave, one of the darkest of all, asked "Why are you searching, John? All you have is right here... you have slaves that work for you, cooks that cook for you, and all the riches in the Kingdom. You do not need to journey for these months, stay home"

You stupid African, you call me master, you here me!" And he pounded the dark man's head with a war helmet, knocking him off of the boat to his unlucky demise

"Sir, you just killed a man!" says one of the architects

"He's a n*****, so what! They don't go to heaven anyway... filthy animals..."

Now the slave's cousin had seen the King murder him, and immediately grew vengeful
She was mixed with the black of her original African ethnicities, and with the white of her European owner

Because of the fairness of her skin-and her attractive physical appearance, she never had to do much work. She was allowed to be around the non-slave people on the ship, and her revenge was simple. She plotted until it made sense to her, and she proceeded

"This boat it flying!" were the words from the captain. The ship was leaping over waves and running into another, making for a scary and bumpy ride

The slaves cousin was very sly, and she made her way unsteadily into the King's dining room

As she entered LaParte seemed upset, or maybe confused in his mental wanderings

"LaParte, my king would you care for a drink?" and he excepted one, two, and three others, until he could barely stand

In the last glass, the slaves cousin who's name is Shanelle Bugois, had taken a glass jar and broken into many small pieces. She poured it in the last wine, while the King was oblivious to all matters

Before she handed it to him, she asked him, "Why did you kill my cousin, that n*****?"
"Now na, honey, I didn't plan it, he just got out of line there and I did what anyone would a done. Just too bad uh, he was sittin' right on the edge huh?"

"Yes, very unfortunate," and she gave him the glass.

He drank and he drank like he hadn't just had a few bottles, but nevertheless he kept on drinking

It's effects seemed inexistent at first, but slowly the great King started to get maimed and cut within his body, and finally the blood came out his mouth, nose and eyes, defining him as passed on
"Do one thing for me, the great King LaParte... Find the edge!" then he spit up his blood and died

News came around of the King's untimely demise, and everyone was dedicated and motivated to find the edge

As they continued to journey through the seas, they came upon an island, one which they didn't recognize

The slaves anchored the ship, and were sent to swim to shore while the guards took the small boats

Soon as they reached the dark sandy beach, there was a sign that said "Terkedilmi?."
"Hey, slave boy! You gowan and read that monkey language for us huh," said one guard

"It's not monkey language Jason, it's either Turkish or Azeri, I really don't know." said another

They had landed on a Cypriot island, totally abandoned of human beings. There was, however unlikely, a black panther

The panther was very black, jet black, and had bright starlight eyes. The panther said "You brave men, I know of what you seek, however it is not what you expect. If you believe that I am your companion and would not care to harm you, then you are highly welcome to come with me to oasis. You don't need to know where or what the end is."
"I used to own a leopard!" a slave said. "There is a wiseness to this beastly cat- I will go with you panther," and just them two went into the hills of then uninhabited Cyprus

They sailed away and again through rough waters until they came upon another island, apparently a major port. The sailors met all kinds of people, of whom spoke many languages; Kothaya sesa habe? Cuoi cung o dau? Sonu nerede? Irutiyil enke? Ambapo ni mwisho? Donde esta el final? Gde zhe konets? Dove e la fine? Di mana akhirnya? Owari wa dokodesu ka? Anta kaham hai? Pou einai to telos? Onde e o final? Wo ist das ende? Ou est la fin? Saan ang dulo? Waar is het einda? Daodi shi zai nali?
Standing tall in between two half-dying shrubs was a large rectangular sign that read "Bem Vindo para Todos," which they had to take as a welcome post
The island was a seeming void, no people or animals walked the streets and alleys. In the far distance there seemed a group of armed soldiers, and the crowd rightly decided to walk in the other direction

They saw one skyscraper and the rest of the buildings were short, relatively so. One of the slaves started to run towards the guards, possibly to get help or freedom. He was shot dead in his upper sternum near the neck, and no other slaves decided to run for the remainder of the trip

The slave's cousin directed the other slaves to go back to ship and rest for the ride would be long

After many elongated months and days, there seemed a giant sink hole yonder in the sea. Winds picked up, waters currents swam quicker, and fish seemed to be running away from the ominous pool. With such a large school of fish, sharks came along with them

The sharks jumped out of the water simultaneously snapping jaws and singing "The best place in the world, this is it!"

To the people on the ship, it was a horrific site, and they were heading fast at it

A moderately sized flying fish was glided directly onto the deck with the captain and said, "This is what you seek? Be this the end? Go over and tell for yourself, haha."
And he glided into the mist. The slave's cousin had now disguised herself as the King, and aimed to inspire her crew; "Gentlemen, ladies, we've found it... the End!"
Now the "End" was a spectacular sight, if ever one was seen. The ship crowd cheered at first, and were yelling and flitting as if they'd scored a goal in the championship football game

However, the mood plunged drastically when they had noticed that they were on their way to a watery abyss
Many people jumped ship, some went into the ship's corridors, and a few prayed to their various gods

The King-the impostor-ran to the back of the boat, not able to do anything about the sinking ship, and there she showed her cowardice

As she fell helplessly into the abysmal falls, she began to feel a sharp pain in her upper back, and she seemed to be gliding. After a while she wasn't gliding anymore, but flying, moving her ams to propel her through the skies

The slave's cousin was then surrounded by blue birds, monarch butterflies, and a large barn owl, all flying in a massive unorganized flock. And as she flew, she got further away from the Earth, then the solar system, Milky Way, and many other galaxies

At this point she was moving at incredible speeds, faster than sound travels from the tongue to the ears, and had far surpassed her flying acquaintances

Once she had reached the outermost possible point, she landed on nothing, which seemed very much like fine transparent glass

On a certain spot there was an inscription that said "HOC ESSE IN ORE"

Her view was magnificent, she could see all the galaxies and stars in the entire universe at once

Though the slave's cousin had never learned Latin, she could read the writing and understand it like it was embedded in her genes; "This Be The Edge"

There she wandered around seeking something, however not knowing what it was
"WANDERLUST," an infinitely powerful voice said, seeming from nowhere at all. "THAT IS THE FEELING YOU POSSESS."

"Who goes there, and who's voice is this!"
"I AM THE CREATOR, THE BEGINNING, MIDDLE AND END OF ALL EXISTENCE."
Amazed with this, she fell down on her behind and fell to shock for a moment. He seemed to be a gaseous flow of something, however nothing at the same time. And it seemed as if every word he said was predestined to be released since the beginning of time. She started to ask Him questions,many about life and purposes of various aspects of her life

"YOUR TIME HERE IS DWINDLING MY CHILD, I MUST SEND YOU BACK TO THE PLANET WHICH YOU CAME, FOR NOW YOU KNOW SO MUCH AND HOPEFULLY YOU CAN USE YOUR KNOWLEDGE."

As the slave's cousin started to levitate, she began to stutter a question; "Umm, what is Love? I mean what is it's real purpose or maybe, its definition?"
"LOVE IS NOT A FEELING, AS MANY INTELEGENT ORGANISMS BELIEVE. IT IS AN IDEA I GAVE TO HUMANS TO HELP THEIR LIVES. THE GOAL IN PEOPLE'S LIVES IS TO FIND SOMETHING -IN ONE WAY OR ANOTHER- AND THAT ON EARTH IS CALLED LOVE, AS YOU KNOW IT. LOVE IN THE WAY YOU KNOW IS UNIQUE TO HUMAN BEINGS, AND THAT IS WHY YOU DO AND SHOULD CHERISH IT; THAT IS WHY IT'S SO IMPORTANT TO YOU..."

The slave's cousin decided to ask, "Can you forgive me for killing the King, the true king?"

"OF COARSE, FOR IT WAS IN LOVE. I LOVE YOU DAUGHTER, BUT ONLY BEACAUSE I CREATED YOU, AND IT IS FAR MORE LOVE THAN YOU COULD IMAGINE OR CONTAIN CAPACITY FOR. I HAVE CREATED LOVE, AND SOON YOU SHALL FIND ITS MEANING. NOW PEACE TO YOU MY CHILD, AND YOU NEED NOT WORRY ABOUT YOUR KING, FOR HIS SOUL IS BACK INTO THE FABRIC OF THE UNIVERSE FROM WHICH HE DESCENDS."

Partly confused, she started to walk towards the writing in the "ground," and suddenly an eery mist started to surround here. She was emotionless as it happened, and as it happened the mist got thicker and more solid, and started to feel like water

She awoke on a rocky beach- green were the waters with algae. She laid in the shallows as an elegant mermaid might wade in the pools. Knowing in no absolute way how she got there, she began to look to the right

Then left

At left she could see mountainous cliffs and ridges
As in the edge of the universe, she lifted her salty wet hair and saw a large vertical "LOVE" carved into the cliffs. It was an apparent acronym; Lust, Overaction, Vengeance, Edge.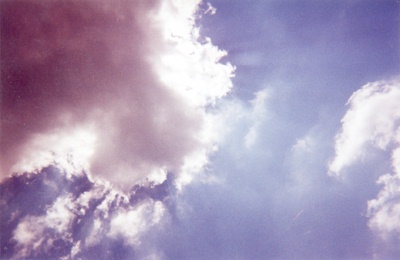 © Kena A., Huntsville, AL