The Spyssey
May 2, 2012
The Problem
Be my voice, my mother, and help me to tell the story of the day we heard the loud bell.
This was the bell that told all of Britain that we had been stricken.
Our princess was gone.
She had been from our country withdrawn.

Everyone loved our Princess Pippa.
There was never a problem with her.
She was so generous, loving, and kind.
Why would anyone want to cause a stir?

Now the country was in upheaval,
wondering where she had been taken.
This was a mystery that someone was
needed to step up for the retrieval.

Now I will tell of the person who did this.
Her name was Clover, and she was a spy.
No one knew her identity until that very July.

Clover had been in training, just waiting for a mission.
She knew this was the one because in her rose great suspicion.
Clover decided she was ready for the risk.
She knew her life could be changed in a whisk.

She planned to somehow get into the castle,
to find the evidence that she would need.
What she didn't know was that it would be such a hassle.
She didn't know that the guards wouldn't except a plead.

The Guards
Clover went to the castle owned by the king and queen.
She went there not knowing what to expect, but wow was it a scene.
There were people everywhere, trying to get in and find out more.
There were many guards protecting every window and door.

These guards weren't just standing in front of the doors making sure no one got close.
These guards were protecting the castle like a dog would guard its bone.
They were threatening, holding people back, and even making blows.
Clover knew she couldn't plead, so she left the castle, knowing that her chance was blown.

Clover decided she had to come back.
She knew she had to go when outside it was pitch black.
When she came back, there were still guards, but not as many as before.
Now it was time to get to the princess's room and explore.

She looked at every angle of the castle from afar, and found a side that was not on guard.
Clover was lucky because she knew that was the side where Princess Pippa's room resided.
She had to get over the barbed wire fence and into the yard.
It was time to use her fence climbing skills, she decided.

She climbed up the fence and over the barbed wire.
Princess Pippa's room was on the fifth floor.
Clover had only been trained to climb up to a fourth and no higher.
There was no time to just stand around anymore.

Clover was always taught to pray to the spy god in a time of doubt.
She did so and threw the rope that latched onto the window of the princess's room.
She started climbing and caught herself when she started to slip, before she could shout.
She knew that the spy god had helped her back to her resume.

Inside the Castle
She finally made it to the window and found that it was locked.
Clover pulled out her melting ray gun and melted the lock right off.
She jumped through the window and into Princess Pippa's room she walked.
Clover was so awe stuck by the scene that she stopped breathing and out came a cough.

She was nervous now, thinking that someone had heard.
When she didn't hear any movement in the house she started to really take in the room.
The room was filled with so many colors, just like that of a parrot bird.
She started to look around for evidence of a struggle, but then came a loud boom.

All of sudden the door opened with a crash.
Guards came in and took her away, down the halls.
Everything had gone by in a flash.
In an instant she was in the trial room as the one of the guards calls.

In front of her sat the lovely Queen Ruby.
Clover knew she was in trouble.
Certainly at two a.m. the queen was a little moody.
Clover had to explain her double.

The Queen had no patience for a case of break-in.
Clover explained that she was a spy.
All Queen Ruby wanted was for Clover to be taken.
Clover had to plead or else by order, die.

Clover pleaded to the queen on her case.
She wanted to help the family recover their daughter.
As Queen Ruby listened the expression changed on her face.
Then the Queen told Clover what she wanted to hear, Pippa was near water.

The Evidence
Clover was astonished to know that Queen Ruby knew that.
Queen Ruby explained that people had already located where Pippa was being held.
Getting into the place where she was held was what they needed to work at.
Pippa was in a cave where many animals dwelled.

Queen Ruby decided to let Clover help.
She had a tracking device put into Clover to know where she was at all times.
Clover would have to swim through a swamp-like river and run into some kelp.
She would have to solve all of the crimes.

In the City
Princess Pippa was located in Germany in a small city.
Clover was able to, provided by Queen Ruby, take a flight there.
Little did Clover know, this city was so pretty.
Wondering where the Princess might be, Clover said another prayer.

Suddenly, she knew that the cave must be located in the woods.
She took off to the only woods in this city she knew of.
As she was walking, she found a piece of Princess Pippa, one of her goods.
As Clover looked up, there she saw a dove.

Right then, Clover knew the spy god was with her every step.
She had come across a swamp, and across this swamp was a cave.
Right away knowing that she was close, Clover was filled with pep.
She took one step forward, and into the swamp she fell as the land gave.

The Swamp
Clover was taken into a body of musty water.
This water was as musty as a hot, humid, and foggy morning after a night of rain.
As Clover got deeper, the water became hotter and hotter.
The mud of the swamp made her feel as if she were being pulled down a drain.

As she swam underwater, Clover came across some animals she had never seen before.
She didn't know how they could survive in water like this.
She felt as if she had to fight the water because of the mud as if it were a swamp war.
Clover was so grossed out that she came up from the water after a fast swimming animal gave her a kiss.

The Bears
She finally came to the other edge of the swamp.
Clover had to use all her strength to pull herself out of that mud.
As she approached the cave, she heard a stomp.
Then she saw it and immediately ran in a scud.

Bears were chasing after her like no other.
She found a high tree and started to climb.
When she had gotten to a high enough branch she heard the bears growling at one another.
Now Clover had to test her bow and arrow skills that she hadn't tested in a long time.

She pulled out her arrows and aimed down at a bear's eye.
As she let it go, she realized it was still her best strength.
There it went into the bear's eye, as she watched it struggle and die.
Clover shot every bear down, each at a different length.

Pippa is Found
When she was sure all the bears were done, she climbed out of the tree.
She trekked back to the cave and didn't find anymore bears.
She went into the cave and because it was so dark, she couldn't see.
Clover pulled on her night vision glasses and immediately saw the bugs floating through the air.

Clover found a stone that had been rolled in front of a certain compartment.
As she rolled away the stone, she found the princess lying on the ground, chained up.
Clover was thrilled and didn't know what to think of this event.
She walked toward the Princess Pippa, and saw her in a close-up.

Pippa was fairly beaten up Clover had noticed as she awoke her.
Pippa was so happy to see that some had come to her rescue.
Clover melted off of Pippa the chains of what were.
Now it was time to call the royal crew.

Back Home
Pippa and Clover flew back home, where everyone was there with a welcome.
The whole country was glad to have their princess back.
Clover was now known as one of the best spies to almost everyone.

Back at the castle, the king and queen thanked Clover for everything.
They even decided to let her live in the castle with their family.
She taught the royal family about being a spy and all that it had to bring.

Meanwhile, Pippa and Clover became the best of friends.
Pippa was so grateful for Clover for saving her life.
That is the story of when Princess Pippa was saved by Clover the Spy, and like all the stories, it must come to an end.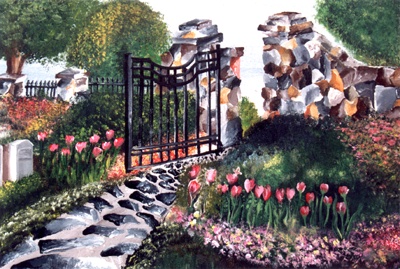 © Anabel T., Kannapolis, NC