wanderlust
May 1, 2012
In a small, old-fashioned village, there lived a family of four. The children, Henrietta and Spencer, grew very bored of their lackluster, monotonous lives. One day, Henrietta decided that they should escape and run to the nearby city for a change of pace. Keeping it a secret, she composed a map of the area and created a plan for their escape. She added to her map every night, and her excitement flourished when she thought about it.
After several weeks of planning, she decided it was time to tell Spencer about her plan. At first, he seemed apprehensive about leaving the life they had always known for the mysterious but exciting world in the city. Henrietta assured him that it would it would be a positive adjustment from their boring lives at home. They decided that they would escape on the day of the city's annual trade festival, formally known as Market Day. Since it was a very busy time for their parents, they knew that it would be perfect.
They continued preparing for the big day, making sure they had everything they needed. When it finally arrived, they implemented the plan that Henrietta had devised. They began the long journey across the countryside, discussing their reasons for leaving as they walked. Throughout the trek, Spencer felt as though they were being followed. When he mentioned the feeling to Henrietta, she immediately disagreed.
"It's impossible," she said. "No one even knows we've left." Although he was hesitant, Spencer accepted this and continued walking until they finally reached the Big City. When they arrived, it was everything they'd imagined it to be. They continued to live out their dreams in the city for four days, exploring, playing and meeting new people. Though he was having fun, Spencer felt as though something was missing.
"Henrietta, do you think that maybe…" he didn't need to finish. He could already see that Henrietta understood. The next morning, the children packed their bags and began the arduous trip home. When they arrived, they were greeted by their mother.
"Oh hello there!" their mother said. "It is about time you came back!" With that, she winked at her husband and walked away.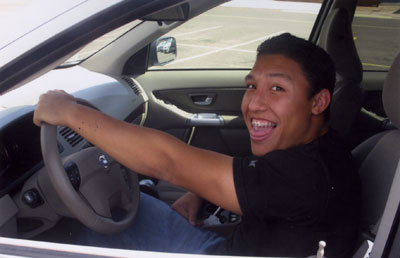 © John H., Phoenix, AZ