War Zone
April 26, 2012
The rusty, coppery, metallic stench of blood greeted me as I entered the field. The strong smell of gunpowder was easily discernible, along with something that smelt suspiciously like rotting flesh.
Fountains of dust being sprayed into every unpredictable direction by the wind reduced visibility, and I shielded my eyes with my hands. Barbed wire and sandbags adorned the field as far as the eye could see. And then, as a soldier passed me, I pressed my hand over my mouth.
Purple, swollen dark circles under his eyes, his face streaked with sweat, blood and mud, he looked like a person who hasn't slept for days – and yet is forced to run for his life. It was nothing like the honorable dignity I'd imagined. It was – there is no other word for it – pitiable. And his eyes – if you looked a little closely, you could see the helplessness and fatigue and uncertainty with such intensity that it was enough to make you recoil.
The din was loud enough to make you deaf, and yet not loud enough to stop you thinking. Gunshots and explosions, together with the occasional sound of curfew were ruthless on the eardrums. The wind was protesting. The sun was trying its best to send the humans where they should be. Blood speckled the world around me as if it were the commonest thing on earth. On the ground below me, I thought I could just make out the stamped-on, mud-stained photograph of what seemed to be a happy family, perhaps dropped by a loving father; a devoted husband.
The irony made me want to scream. A strange something gripped my heart. It was like a nightmare; only more vivid. How could people who had the power to stop war, sit in the comfort of their homes while their brothers were being slain? It was downright inhumane.

I was reminded of General Eisenhower's famous quote, - "I hate war as only a soldier who has lived it can, only as one who has seen its brutality, its futility, its stupidity."
And as a cry reached my ears, a cry that expressed agony such that neither flame nor dagger could cause, I turned around and ran. I ran till there was a stitch in my side. I ran – till I couldn't taste death every time I breathed...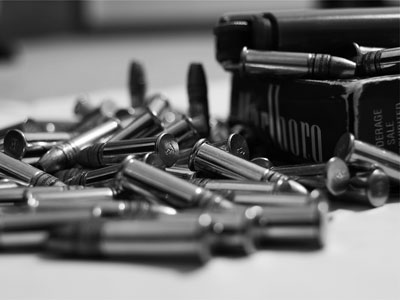 © Noah P., Platte City, MO