Huntress
April 16, 2012
Civilization was on the horizon. I almost shouted when we got there, "We survived fandids and emivads!" Almost. Instead, when we got to the town plaza, I took Relil by the hands, smiled secretively, and kissed him long and hard. The crowd whooped around us and shouted silly things like "Get a room!" and "That girl's got a mind of her own!" I laughed and heeded their pleas to get a room and pulled Relil through the musty streets. I smiled to the dull cashier girl, and handed her the crisp $500 bill. Her mouth gaped slightly as I told her to keep the change. Taille, as her name tag read, changed her attitude right up.
"Right this way, ma'am" Taille led us up a d flight of modern, square steps. The hallway was red with a burnt gold color stenciled into teardrops. The markings fit the hotel's name, Crying Saints, perfectly. The white trim on the gold door contrasted everything else of the hotel that I'd seen.
Taille handed me a copper key, the head carved into a tall, dark and handsome horse's head. Relil and I laughed at the out-of-place touch, but named the gelding anyway. We gave him the majestic name of Hank. Relil wanted to name him Lightning but I thought that was more for a grey white horse. We needn't have worried though, because sitting on our bed side tables were matching figurines. I named mine Sadie and Relil's was dubbed Lightning. Hank came to rest near Sadie every night.
Next was the dilemma. There was a bed in the center of the reddened room. It was a king. But still, one bed!
I glanced at Relil, grimaced and chuckled nervously. We couldn't ask for separate beds and risk blowing our cover as a run away couple. I avoided the topic as best as I could by taking an extra long time in the shower, trying to calm my overworked muscles. I put lotion on my legs and arms and combed through my mess of auburn hair. Eventually, I had to face the facts. There was on bed, two of us and nothing we could do about it.
I sighed and returned to Relil. He was waiting for me, though his eyes were closed and his breathing even, I could tell he was awake. It was almost a feeling of pressure, like a tension that wouldn't go away. I still had the bloody nightmares.
The next day, I got up early and stretched, but I wasn't enough to make the deep feeling in my stomach go away. I ate a quiet breakfast downstairs, then came back up to leave Relil a note saying where I was and what I was doing.
After I had gathered my practice equipment, I headed out. The park wasn't hard to find in the little town consisting mainly of houses and farms. I walked a few blocks east after getting directions from a passerby. The man's words stayed true, and a few minutes later, I was clearing a space off the path to work in.
I began my work. First I started with easy combos, things humans could complete with little to no effort, if they were very well trained. The truly easy stuff I had done in the hotel room. These were things like aerial scissor kick jumps and one handed pushups for when you get knocked to the ground and have to get up. Each side of my body was trained equally so that if a part of me, physically of course, was hurt or unable to move, I would be as deathly as before.
Eventually I moved on to the complex stuff. Things the humans could only dream of, like a double backwards aerial flip completed with a snap kick circle sweep. I jumped, punched and and rolled my way through my daily workout. By the time I was halfway through it, I was panting heavily, but my bones barely ached. I was all for show. Always changing and always behaving differently, because it is I who have to act like a human, like it was hard.
I was thinking this when I felt a hand on my shoulders. I had already jumped when I saw it was Relil. "You're as light on your feet as your brother."
He laughed, "I've been told that before. Good job on that twist combo, by the way."
"Thanks. Do you want to spar? I haven't seen you fight."
"Are you sure? Don't mistake me for my brother."
"Bring it on, Prince boy." We circled and growled low in our throats. A good animal specialist would recognize the as a possessive war cry. He would also know the playful, brighter sounds. Relil started with a testing move, jumping over my head and sweeping a my knees. I nearly laughed, the move was so easily blocked. I leaked a smile and hopped to his right side to smack his stomach with my elbow and hip. He groaned but retailiated with a midair corkscrew twist and kick punch pair.
We laughed ironically as we literally tried to pummel each other. I would duck his offense, then try to get his defense to fail in some tiny way. He never did. I would punch, he would block. I would front kick and side sweep, but he would just step out of the way like I was coming at him like a child and not at thirty-five miles an hour. It made me angry. It made me focused. I was a lethal weapon that couldn't be touched.
We gathered a crowd. I didn't mind, but I knew Relil would, and I used that to my advantage. The audience consisted of some rich kids, slow thinking teens, and a few businessmen and women. It was mainly homeless people. The dirt covered children made it a game. They dared each other to run around our feet, seeing who would get closest. Their parents watched them closely but chuckled at their antics.

In the end, it was they who caused Relil to falter. One of them had been getting closer, I had kept careful tabs on her during the fight, but Relil obviously hadn't. The girl was the winner; she had grabbed his ankle then darted back to her friends. Relil was put off for at least half a second, which was plenty of time for me to put his back on the floor.
For a second, it was all fight, all adrenaline. Then it was just me and him and my too fast heart. I had him pinned my prey, and my tiger was pleading and growling to come out and attack his gleaming lion eyes. I thought about it too, changing in front of these little beggar children. Then my head cleared, and I scolded myself for even thinking such a thing.
I pulled him up and kissed him quietly. I looked around and realized Relil had brought more than just himself. "You brought our bags?"
He nodded, "Yeah." he pointed to a few bags, "Those have food and those are empty for tinder and firewood."
I nodded and began the task of walking around the park to gather the dry wood. After I had filled both bags to my liking, I labored on the food. "Here." I gave a package to him. "Vel, Vel." I used my tiny amount of magic to freeze dry the food. I shrugged when Relil arched an eyebrow.
The campsite was cleared, Relil and I were rested, and the sun was just starting to cast its light. I decided it was time to run. I mounted onto Fire, my equine beast. "We ride home." And even though I said it softly, I had a feeling Rill could hear me as clearly as his brother.
*Chapter two*
We reached my old city at dawn. I determined that riding Fire down a modern day street wasn't the best idea, so we untacked and let our mounts go free. We also changed from our Shifter clothes. There was a yellow sundress for me and plaid shorts and a t-shirt. He looked at me, trying to get used to the feel of the clothes. I smiled, but looked away. Too much had happened in too little time.
I nodded to Relil. Our plan was simple. My magic would alter our appearances to look like siblings in their late twenties. Only a Shifter would see through the veil.
Once we got to the school, posing as inspectors, we would find Elaine and take her to the woods, to tell her about her destiny. That part wasn't my favorite. If she didn't come easily, we'd have to resort to force. I made a face.
"What?" Relil asked.
"Nothing. I was just thinking about the plan."
"It's alright. Everything will be alright." He looked at me, but it sounded like he was reassuring himself. I sighed.
"Let's get this over with then." We knocked on the glass doors and were admitted to a clean principal's office.
He was a short man with blond hair and blue eyes, altogether a handsome but stressed man. "Hello. I'm Mr. Zimbabwe, the principal here at Brookfire High School. How can I help you?"

"Hi, Mr. Zimbabwe. I am Jane Finnley and this is my brother, Ross Finnley." Relil nodded demurely. "We're with the NHL group, National Healthy Lunches. We've received a call about unhealthy eating conditions. If we could just look at your cafeteria..."

"Oh! Of course, but I really don't think that's nessasary."
"I hope not, but orders are orders."
"Well then, right this way." Relil and I followed Mr. Zimbabwe to the white washed cafeteria. The glass tables literally sparkled, and when I ran my polished finger over them, my finger came away clean and spotless. I remained bent over a few for a minute longer, just to give the impression something might be wrong. There wasn't, of course, but it was another piece to my disguise.
"There's nothing wrong with the conditions or food here, so it was probably just a thoughtless call. However, if we could speak to a few kids here, a girl and a boy maybe? Those two would be great." I pointed to a random red head and Elaine. While the principal called them over, I silenced Elaine by putting a finger to my lips. Relil smiled quietly as I shushed her.
"Here you go! This is Elaine and Mac. They are both seniors."
"Hey!" Relil says. "We're safety inspectors. We'd like to ask you a few questions, if that's okay?" They nodded. "I'll take Mac first, if that's okay?"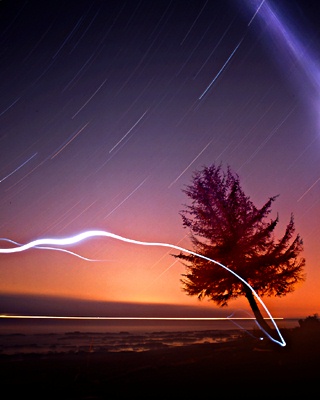 © Joey M., Spokane, WA