The Twin Conflict
January 21, 2012
It was such a good dream. I felt as though I was walking on air when I was dreaming. Waaaait a minute. I felt when I was dreaming??.....
"WAKE UP, VANYA!! It's past eight o'clock, if you might want to know!" Ma starts shouting again. I thought "What's the big deal if it is past eight o' clock?? Ah!! Here comes the answer." When I came downstairs, she started to poison me again with her words "Manya woke up one hour ago. I don't understand what is wrong with you. She has even done her homework and her math section is done. Why can't you ever be like her??" From the study table, Manya shouted "That's because she is not like me Mamma!!"
I don't know what got into me when I ran from the dining table and locked myself in my room. I still don't get why I am still ignoring the pleas of ma. What I have in my mind is just a firm; firm but a painful, bitter resolution in my mind- leave this house.
After 2 hours, I decided to come down. The moment I came down nana was after me. "You insolent brat! Why did you not answer when your mother was calling you? Don't you have any manners?" After calling Manya, he said, with a note of pride in his voice "Look at her! She is your sister and she has done her work. I am fed up with you."
With a hint of irritation in my voice I apologized hurriedly and went to have some breakfast. I had to eat dal and sabzi as a part of my punishment. I nearly vomited. Finished eating, I went upstairs to my room again. I had gone with the intention of finishing my work, but I was too lost to do anything else from thinking.
I and Manya are twins. Can you believe it? Its just me, ma, Manya and nana in the house. Pa left the house 2 years ago. Since then life has taken an unpleasant turn for me.
Manya is so different from me. So good, in the family's opinion, so clustered and narrow-minded in my opinion. All of my family thinks I am and will be of no use.
Ask yourself, do you seriously think that math, science and SST are everything? Can't you be a musician or a writer or a shopkeeper if you want to?
Since papa has left the house, I have been the loneliest person in my home. I love school. I am seriously popular there. But Manya is jealous of me. She is rude, mean and stupid, I think. I hate to admit that we are twins.
I started to smuggle some food every night, thinking all the time about the glorious day when I will be leaving this house forever. Everyday I kept something or the other in my bag. May it be a torch, batteries or something else, I was busy all night. At last a night came when I thought I am ready.
A week later, I had everything packed. Packed for what? For leaving this house. Not for a vacation. I am going away forever. Alone, on the hardest journey of my life. No one knows about this. I hope at least they would miss me when I am finally gone, gone forever…
I am ready. Scared that I am, there's this strange feeling in my mind that things won't get better when I go. Still, the determination overcame my feeling and now I know that it was a lie.
Giving the last look to the house I hated so much, I finally turned. The world which was so familiar with the tea shop on my right and the playground on the left looked strangely new to me and now that I know that the world is so big, I started.
I had smuggled ma's credit card and some money. I had a lot of money, some chocolates, some food, 5 big bottles of water and my clothes in the rucksack.
I managed to stuff 2 blankets for winter and summer, along with my favorite pillow. But the weirdest part has not come yet. My deepest pocket in my shorts keeps wriggling. Why?? Because I have a hamster in it. A hamster by the name of Oreo. As it is winter, he is feeling cold. So I covered him with my thickest handkerchief. He is the only thing that understands me. He knows everything. I tell him everything. But I didn't tell him that I am going to take him with me. I knew he wouldn't like it. He is not. But now he's asleep.
I found a place in my friend's house for the night, Shivangi. She was horrified when I told her the whole story, but then she recovered herself and then went to give me a place to sleep in her house. When I was just about to sleep, she spoke to me, cautiously whispering "I don't think you should do this my friend." I ignored her, and pretended to be asleep. But these words stayed in my mind even when I woke up the next day after a restless sleep. I thanked her for her kindness and continued on my way.
I gave Oreo some lettuce leaves and ate some bread and marmalade along with some chocolate. It tasted delicious.
After walking for an hour or so, I thought I saw a patrol coming. I hid and listened quietly. They were asking an elderly woman "Sorry to disturb you ma'am, but there is a child that ran away from her home. We need to find her before she harms herself in some way. Have you seen her?"
My heart turned to stone when I heard those words. I tried to console myself that they might be looking for someone else, but deep inside these words themselves sounded hollow.
When the patrol had gone, I cautiously went outside and ran, hiding my face all the time. When I overcame them I stopped. I was oblivious of the fact that Oreo was missing. I was too worried. It was already lunch time. So, I went to a restaurant and talked to the barman. I told him to give me some shelter and food for the day. The barman was a kind-hearted man. But his eyes had a strange look that I could not recognize when he said in a deep, mature voice "ok child. I will give you shelter for not 1 day but 2 days."

So I stayed in the barman's house for 2 days, enjoying myself in helping him for 2 days. I could do anything I want anytime on the condition I would never disturb him.
Suddenly I knew that Oreo was missing. I was really sad and started crying. The barman comforted me. He said "Beta, don't be worried. He will come back if he loves you the most. Those who love you will search and care for you, even though they tease you a lot."
After a sleepless night, I started on my way. Alone, without Oreo. There was this feeling in my heart that I could not recognize. Still, after ignoring it, I continued on my way.
After 5 days away from home, I recognized the feeling. It was the same feeling that I didn't feel since me and everyone went to a vacation to Dubai, with pa 2 years ago. It was the feeling of home. I sat in a corner and started weeping. I felt insecure. I was longing for the love of ma. After all, I also was a child….
When I had started again, I heard a voice. Turning around, I saw the same patrol. In one officer's hand was…. I could not believe it. It was OREO! I ran towards them and took him in my arms. I gave him some lettuce leaves and he devoured them in 1 minute. He was very hungry.
The patrol took me to a police jeep and after the longest 15 minutes of my life, I was in front of home sweet home. Everyone gave a shriek when they saw me. They dragged me in my room and thanked the patrol endlessly.
All of them were in a mess.
Manya never looked so miserable in her life. Ma's face was blotchy because of tears and nana's blood pressure had gone up. Manya told me "You know sis, I love you. Why did you leave us?" Ma was too happy to speak, but I understood what she wanted to tell me. Nana had hugged me at least 5 times since I came.
It was as though those miserable 2 years had never happened. I felt too bliss, guilty and sad at the same time.
After all, they were my loved ones.
It was only then did I understand the love and importance of my family.
When I grinned at them and turned around, I saw shivangi's face glowing with happiness.
The barman was right. Those who love you will search and care for you, even though they tease you a lot.
…..
When I woke up the next day, I knew that Manya is not bad.
After all, we are twins actually.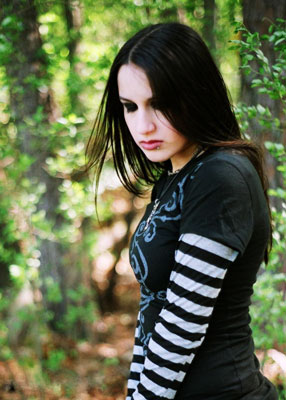 © Rebecca B., Marietta, GA