The Sweetest Little Girl
December 26, 2011
Lisa Swanson was just your average twenty year old. She went to community college during the day and worked as a waitress in the evening. Ten years ago, she wasn't Lisa. She was Yay, Steven's little girl and personal love slave.
Lisa puffed on her cigarette as she sat in front of the television and watched the news. Great, it's that newscaster Angela Alvarez. What does that trashy bimbo have to say now?
"I'm coming in live from Meadow Lane county jail. Inmate Steven Jeffry has escaped from prison. Jeffry was sentenced to two life terms without parole." Lisa held her chest as she staggered out of her new leather recliner. Pull yourself together Lisa. He's coming for you. And I'll be ready.
Lisa stopped in front of the mirror in the hallway as she went to get her car keys."You're not his little girl" she said as she stared at herself. She had long dark hair that Steven used to brush a hundred times a day."My sweetheart can't have coarse hair" he would whisper in her ear. If her hair wouldn't stay flat, Steven would pull it till her hair started to come out in clumps. Lisa's chocolate brown skin sparkled in the mirror. When she remember her first day with Steven, her skin started tingling all over.
The strong smell of bleach filled her nose as Steven dragged her into the bathroom. Lisa's eyes jumped from the puke green walls to the gray tile floor, and back to the small rusty bathtub that looked like it used to be white.
"Get in" Steven calmly said.
"No!"
Steven laughed."You're too dark. Yay has to have light skin." He grabbed Lisa and stripped her down and gently set her down in the bathtub. He carefully dabbed the bleach water on all parts of her body leaving no part untouched. There was something strange about the sparkle in Steven's eye, like he was somewhere else. It was like he was playing make believe, one of the games that Lisa had outgrown a few years ago.
Snap out of it. Lisa grabbed her car keys and flew out the front door. She sat in her Volvo, which was a gift from her parents. It was given to her at fifteen years old, when she escaped from Steven. "It'll help you be a normal teenager" her mother said with doubt in her eyes.
"I'll teach you how to drive" her dad quietly said.
Dad already had six speeding tickets and two DUI Lisa thought as she sat in the car. It's their fault that I was kidnapped. They were too busy arguing over the seats we got for Princess Party On Ice to notice that i walked back to the parking lot. They're paying for it now, since they're rotting in their graves. Lisa opened her glove box. It contained a revolver, a box of bullets, and a knife with the blade so smooth and precise, you couldn't help but stare in both amazement and horror. Lisa secretly knew this day would come. The question that always haunted her was when. She knew just the place where he would be. He was at Penwell near Mr.Hetcher's farm to be exact. Lisa came across an old man named Mike Hetcher, whose farm she found when she escaped. It was also where Steven was arrested. She stepped on the gas and headed south. One hand was on the steering wheel, and the the other fingering the trigger on the gun.
Two hours later, Lisa parked a few streets down and headed down to the farm with the knife secured in its holder in her back pocket and the gun in the pocket of her baggy blue winter jacket. It was well past midnight. Everyone would be fast asleep in the small town of Penwell. Lisa spotted Mr.Hetcher's bright red barn. It was as red as a cherry as it shown through the dreary night. She headed behind the barn and stepped on an object. The unfamiliar object made a crunch and pop beneath her boot. It was a metal Barbie lunchbox. She opened up the lunchbox. Inside were a pack of peanut butter crackers and a small carton of milk."This is what what Steven made me eat everyday" she softly said to herself.
"Hello Yay. A heavy set fifty year old bald man with a shaving cut on his face steppe out from behind a tree. You're just as beautiful as before. I'm not too pleased that you grown up."
"Shut up! I'm the only one that got to grow up. You murdered Giggle, Happy, and Smile. They were the girls that came before me." The crooked smile was still on Steven's face as he took a step forward."Come back home and be my little Yay again." Lisa shoved her gun out of her pocket and looked Steven dead in his light blue foggy eyes as she pulled the trigger. "What's all that racket outside? Mr Hetcher came wobbling out of his house with a shot gun in hand. He lowered his gun once her saw a blood spotted Lisa near the barn. Is that you Yay?" he called. All she could do was giggle with pure delight.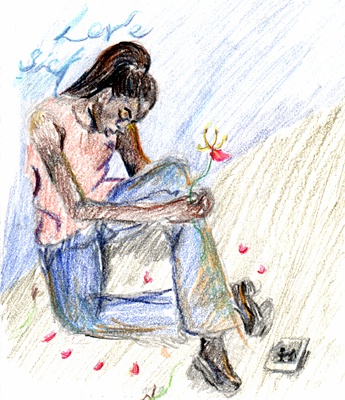 © Sherell B., Philadelphia, PA